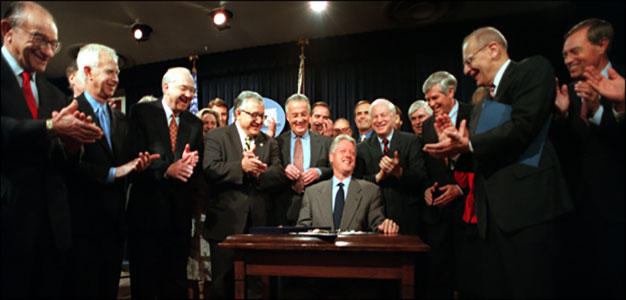 by Pam Martens and Russ Martens at Wall Street on Parade
The Bill Clinton administration's repeal in 1999 of the 1933 Banking Act, commonly known as the Glass-Steagall Act, ushered in the greatest kleptocracy America has ever known.
The Cambridge dictionary defines "kleptocracy" as: "a society whose leaders make themselves rich and powerful by stealing from the rest of the people." In fact, the actual goal of repealing Glass-Steagall was to do just that.
The momentum for the repeal of Glass-Steagall came from the announcement in 1998 that Wall Street veteran, Sandy Weill, wanted to merge his trading firms, Salomon Brothers and Smith Barney (under the Travelers Group umbrella), with Citicorp, parent of the federally-insured Citibank commercial bank. Because of the Glass-Steagall Act, such a merger was illegal at the time.
The 1933 Congress that passed the Glass-Steagall Act had watched the stock market lose 89 percent of its value over the years following the 1929 stock crash. It had seen thousands of banks collapse and the onset of the Great Depression — all because of the Wall Street kleptocracy of that time.
To restore the public's trust in banks, the Glass-Steagall Act did two simultaneous things: it created federally-insured deposits at commercial banks and it barred those banks from combining with their casino brethren on Wall Street – the brokerage firms and investment banks.
Weill had a self-confessed personal motive for the merger he proposed in 1998, which created the so-called "universal bank," Citigroup. Weill told his merger partner, John Reed of Citibank, that his motivation for the deal was: "We could be so rich," according to Reed in an interview with Bill Moyers.
The budding kleptocracy in 1998 didn't waste any time in putting the plan…
Continue Reading