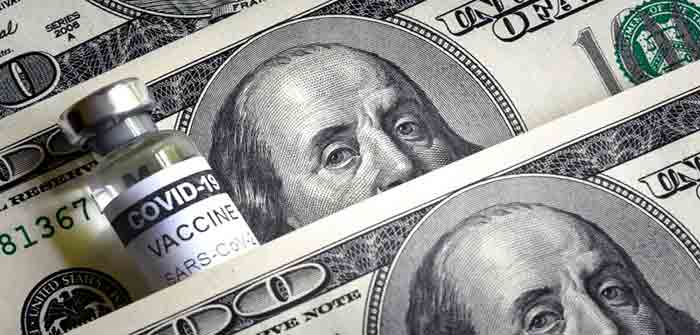 by Megan Redshaw at The Defender
Vaccine makers Pfizer and Moderna are projected to generate combined sales of $93.2 billion in 2022 nearly twice the amount they're expected to rake in this year, said Airfinity, a health data analytics group.
Airfinity put total market sales for COVID vaccines in 2022 at $124 billion, according to the Financial Times.
Pfizer vaccine sales are predicted to reach $54.5 billion in 2022, and Moderna's will hit $38.7 billion. The estimates blow the earlier figures — $23.6 billion for Pfizer and $20 billion for Moderna — out of the water.
"The numbers are unprecedented," Rasmus Beck Hansen, CEO of Airfinity, told the Financial Times.
Sales of the mRNA shots will continue to rise in 2022 due to boosters and countries stockpiling to ward off variants, Airfinity said.
Pfizer will generate 64% of its sales, and Moderna 75% of its sales, from high-income countries in 2022, the analysts predicted.
In April, Pfizer predicted 2021 COVID vaccine sales of $26 billion. After second-quarter results were reported, Pfizer upped the figure to $33.5 billion. Bernstein analyst Ronny Gal said the company could ring up an additional $10 billion in vaccine sales in 2021.
Gal wrote:…
Continue Reading