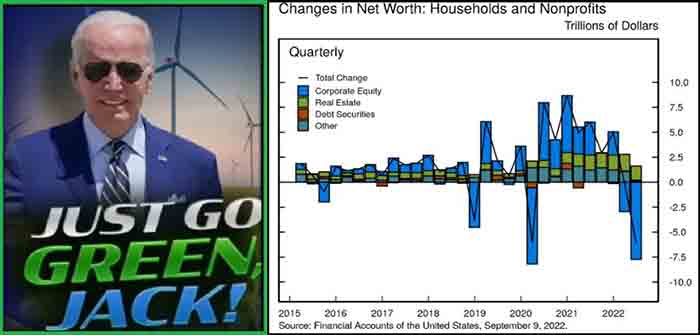 by Sundance at The Conservative Treehouse
The U.S. Federal Reserve has published the second quarter 2022 balance sheet of U.S. total household wealth [DATA HERE].
In the second quarter (April, May, June) 2022, the total U.S. household wealth dropped $6.1 trillion, despite a calculated increase in home value of $1.5 trillion.  The majority of the loss is connected to a drop in Corporate Equity (stock market) and household investment in the stock market.
FED "The net worth of households and nonprofit organizations declined $6.1 trillion to $143.8 trillion in the second quarter. The value of stocks on the household balance sheet declined by $7.7 trillion, while the value of real estate increased by $1.5 trillion."  Keep in mind this is backward looking data, and after a period of decelerating rates of growth, the overall real estate market is now in a period of decline as calculated for the most recent month of July [DATA].
The equity position of homeowners is now considerably less than the equity position when the feds calculated the second quarter household wealth (two months ago).  Part of the issue goes back to what we have been discussing with inflation and specifically energy driven increases in fuel and electricity.
Inflation sucks money out of the economy, making people less wealthy.  Energy inflation sucks money exponentially faster out of each household, potentially making the already working-class poor, much poorer.
The higher prices paid for housing, food, fuel and energy do not contribute to anything, the increased costs are just sucked out of the consumers' pockets without generating any additional value.  It just costs more to live, and that reduces wealth.  Consider this the cost of going green.
Joe Biden and his economic team are introducing phrases like "a growth recession," to explain a dynamic where earned wages are replaced by government subsidy.  You can no longer afford food, energy, housing etc, so the government steps in as the provider of subsidy based on income level to supplement the gap between wages and the new costs of products and services within the Biden created "green" economy.
However, in the bigger of big pictures,…
Continue Reading