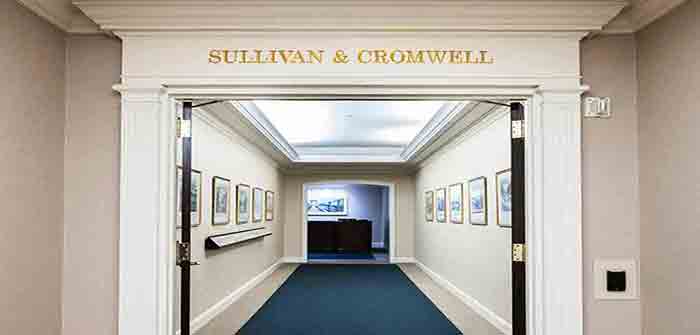 by Pam Martens and Russ Martens at Wall Street on Parade
Thus far, they are the "untouchables." The law firms that were at the side of Sam Bankman-Fried every step of the way as he built the FTX crypto exchange — an enterprise that Justice Department prosecutor Damian Williams calls "one of the biggest financial frauds in American history."
Bankman-Fried, the former co-founder and CEO of FTX, has been indicted on eight criminal counts and is wearing a monitoring device as he awaits trial. Caroline Ellison, the former CEO of Bankman-Fried's now bankrupt hedge fund, Alameda Research, which prosecutors say looted FTX customers' money, has pleaded guilty to a 7-count criminal indictment. Gary Wang, the former Chief Technology Officer of FTX Trading Ltd., has pleaded guilty to four criminal counts.
What's happening to the lawyers and the law firms that played pivotal roles in putting this house of cards together? Attorneys at one of those firms, Big Law behemoth Sullivan & Cromwell, are set to collect "between $1,575 and $2,165 per hour for their work" in the bankruptcy proceedings for FTX, according to Reuters.
Yes, despite its intimate role in helping to build the Sam Bankman-Fried house of cards, Sullivan & Cromwell has somehow managed to become in charge of the bankruptcy process of the collapsed firm. According to Bankman-Fried's draft testimony prepared for a House Financial Services Committee hearing and released by Forbes, "Sullivan & Cromwell was one of the primary external law firms that represented FTX US as well as FTX International" and was calling the shots as the firm collapsed, including picking the new CEO, John Ray. Bankman-Fried was arrested on the day he was scheduled to testify and, thus, did not make it to the hearing to deliver this testimony.
Based on the research of Wall Street On Parade,…
Continue Reading