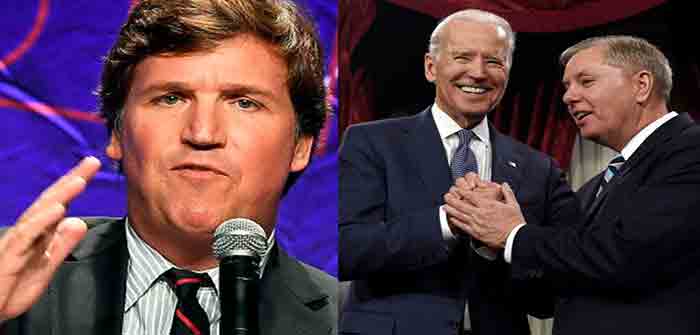 by David Hawkins at Slay
Fox News host Tucker Carlson issued a warning about the "failed" foreign policy records of Sen. Lindsey Graham and Democrat President Joe Biden.
The host took aim at Biden and Graham during his Fox News show "Tucker Carlson Tonight," where he blasted the track records of the two long-time politicians.
"It's a little galling to be lectured by people with impossibly generous Congressional pensions about sacrifices that you get to make, but it's especially infuriating to hear the last guy who is speaking about food prices that have skipped very few meals recently tell you that looking at history, informs you of everything you need to know about the future," Carlson said.
"Really, what sort of history we are talking about?
"Did Lindsey Graham, who supposedly cares about the military, do a single thing to improve it (the botched Afghan withdrawal)?
"Did he call for the resignation of any person responsible for that humiliating disaster that resulted in the deaths of American citizens?
"No, he didn't. And those same people are now in charge of our strategy in Ukraine.
"But the bigger question, really, for Lindsey Graham is – When is the last time he did anything, one thing, to improve the life of an American citizen other than himself?"
Calson said earlier:
"You may have noticed that Joe Biden announced today a new front in his ongoing war against America's middle class…
Continue Reading