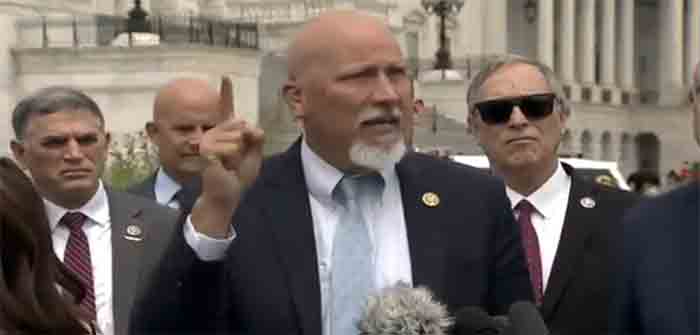 by ZeroHedge News Staff at ZeroHedge
Update (1230ET): The House Freedom Caucus assembled for a presser on Tuesday, where Rep. Chip Roy (R-TX) said: "Not one Republican should vote for this deal. It is a bad deal. No one sent us here to borrow an additional 4 trillion dollars to get absolutely nothing in return," adding "There will be a reckoning about what just occurred unless we stop this bill."
Watch:
Chip Roy on fire:

"Not one Republican should vote for this deal. It is a bad deal. No one sent us here to borrow an additional 4 trillion dollars to get absolutely nothing in return… There will be a reckoning about what just occurred unless we stop this bill." pic.twitter.com/DXBFFl6oCn

— Citizen Free Press (@CitizenFreePres) May 30, 2023
Freedom Caucus is not having it! pic.twitter.com/F0K0bTRoft

— Karli Bonne' (@KarliBonnita) May 30, 2023
.@freedomcaucus Chair @RepScottPerry on deal between President Biden and Speaker McCarthy: "This deal fails, fails completely…we will do everything in our power to stop it and end it now." pic.twitter.com/1kvN5DOEot

— CSPAN (@cspan) May 30, 2023
The Freedom Caucus has left open the possibility of filing a motion to vacate McCarthy's chair if he pushes the deal through.
https://twitter.com/bennyjohnson/status/1663590303385657344?ref_src=twsrc%5Etfw%7Ctwcamp%5Etweetembed%7Ctwterm%5E1663590303385657344%7Ctwgr%5E2c430ffbc87bd13ad381c2052efc5c199672b0ad%7Ctwcon%5Es1_&ref_url=https%3A%2F%2Fwww.zerohedge.com%2Fpolitical%2Fnot-great-right-now-mccarthy-debt-deal-votes-question-desantis-slams-totally-inadequate
Continue Reading