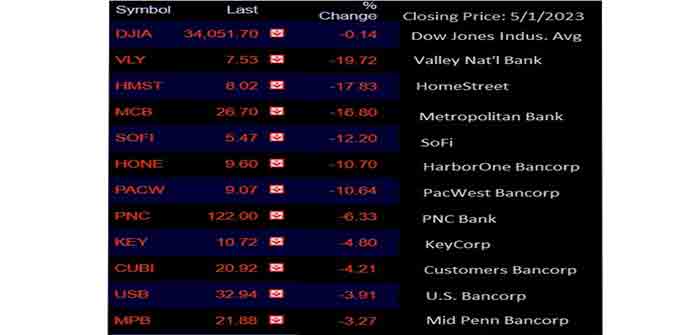 by Pam Martens and Russ Martens at Wall Street on Parade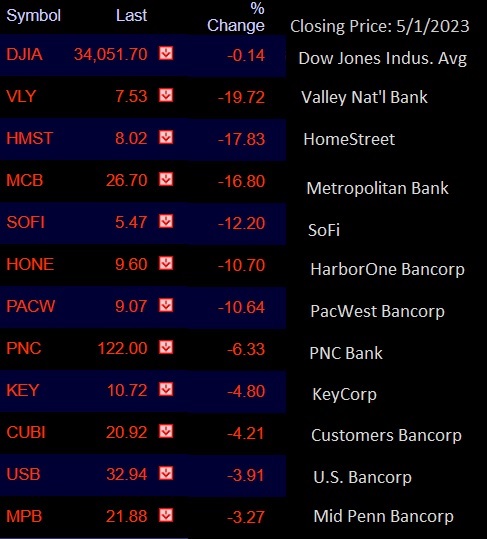 There are two critical things you need to know about JPMorgan Chase's Chairman and CEO Jamie Dimon's ability to stabilize the banking crisis: (1) he's tried twice and failed both times; (2) his bank is a key financier of hedge funds, some of which are undermining bank stock prices with short selling.
The Financial Times reported on April 5 that "Hedge funds made more than $7bn in profits by betting against bank shares during the recent crisis that rocked the sector, their biggest such haul since the 2008 financial crisis." Shares of First Republic Bank have lost billions of dollars more in market value since April 5, meaning the $7 billion haul for short sellers is now an understatement.
The one thing that would help dramatically to stem the banking crisis is for President Biden (a man who derives his powers from U.S. voters rather than a p.r. machine like Dimon) to immediately issue an Executive Order halting the short selling of federally-insured bank stocks. As of right now, short sellers see an easy path to picking a regional or community bank target, or a bank that got in bed with crypto companies, or some inscrutable federally-insured fintech bank, and driving its share price into the ground while minting billions for themselves.
This is now a matter of national security to the United States. The second largest bank failure in U.S. history just occurred on May 1 with First Republic Bank. The third largest bank failure in U.S. history occurred on March 10 with Silicon Valley Bank. The fourth largest bank failure in U.S. history occurred on March 12 with Signature Bank. In each case, the Federal Deposit Insurance Corporation (FDIC), the federal agency that insures bank deposits up to $250,000 per depositor per bank, was on the hook for losses on underwater assets at the banks. It will book tens of billions of dollars in losses to its Deposit Insurance Fund as a result. (The largest bank failure in U.S. history was Washington Mutual. That occurred in 2008. JPMorgan Chase was allowed to take it over, just as happened with First Republic Bank yesterday.)
The FDIC simply cannot afford for this banking crisis to pick up momentum.
Also, something else unthinkable occurred on March 19. The Swiss government…
Continue Reading