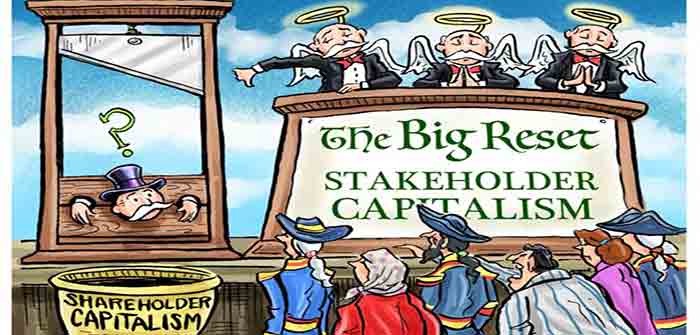 by Brandon Smith at Alt-Market
The concept of "fascism" was originally entered into the Encyclopedia Italiana by Italian philosopher Giovanni Gentile, who stated that "Fascism should more appropriately be called corporatism because it is a merger of state and corporate power." Benito Mussolini would later take credit for the quote as if he had written it himself, but it's important to note because it outlines the primary purpose of the ideology rather than simply throwing the label around at people we don't like as a dishonest means to undermine their legitimacy.
Despite the fact that leftists today often attack conservatives as "fascists" because of our desire to protect national boundaries and western heritage, the truth is that all fascism is deeply rooted in leftist philosophies and thinkers.
Mussolini was a long time socialist, a member of the party who greatly admired Karl Marx. He deviated from the socialists over their desire to remain neutral during WWI, and went on to champion a combination of socialism and nationalism, what we now know as fascism. Adolph Hitler was also a socialist and admirer of Karl Marx, much like Mussolini. It is actually hard to find where Marx, the communists and the fascists actually differ from each other – A deeper sense of nationalism seems to be one of the few points of contention.
Though Marx saw the existence of nation states as temporary to the proletariat and to the ruling class, he noted that the industrialists were erasing national boundaries anyway. Marx argues in the Communist Manifesto with some optimism:
"National differences and antagonisms between peoples are already tending to disappear more and more, owing to the development of the bourgeoisie, the growth of free trade and a world market, and the increasing uniformity of industrial processes and of corresponding conditions of life."
Marx saw the development of corporate power as useful and the next necessary step towards socialism, noting that joint-stock companies (corporations) and the credit system are:
"The abolition of the capitalist mode of production within the capitalist mode of production itself."
In other words, corporations are viewed as a tool for the eventual transition to a socialist "Utopia" and the death of free markets. Once again, we see there is very little difference in motive between the political left and the fascists. The natural progression of every form of Marxism, communism, socialism, fascism etc. all ultimately lead to a kind of globalist ideology and erasure of cultural separation. The methods might differ slightly but the end result is the same. Some think this is a good thing, but it is actually quite poisonous.
Globalism requires an overarching social dynamic, a single hive mind, otherwise it cannot survive. If people have the ability to choose or create better options (or different options) for living then globalism loses significance. The existence of choice has to be erased. This is a behavior that the political left has fully embraced and they are more than happy to work hand-in-hand with corporate oligarchs to make their ideal system a reality. Long gone are the days of the anti-corporate progressive – They LOVE corporate dominance, but only if those companies promote and enforce leftist models for society.
Mussolini's fascism is at the root of the very corporate governance that leftists applaud and lust after today. They have far more in common with fascists than they realize.
The new fascism is a re-branded philosophy best represented by something called "Stakeholder Capitalism." It is a term often used by globalists at the World Economic Forum and the head of the WEF, Klaus Schwab. The media friendly definition of Stakeholder Capitalism is:
A form of capitalism in which companies do not only optimize short-term profits for shareholders, but seek long term value creation, by taking into account the needs of all their stakeholders, and society at large.
But who are "all stakeholders" in the opinion of the WEF?
Well, according to Klaus Schwab they are all of human civilization, now and in the future. In other words, the goal of SHC is for corporate leaders and globalist bureaucracy to take responsibility for the entire world, not just their own employees, shareholders and profits. And such leaders would not be acting as individuals, they would be acting as a collective. In other words, SHC requires all major corporations to act as a single unit with a single purpose and a unified collectivist ideology – An ideological monopoly.
WATCH:…
Continue Reading