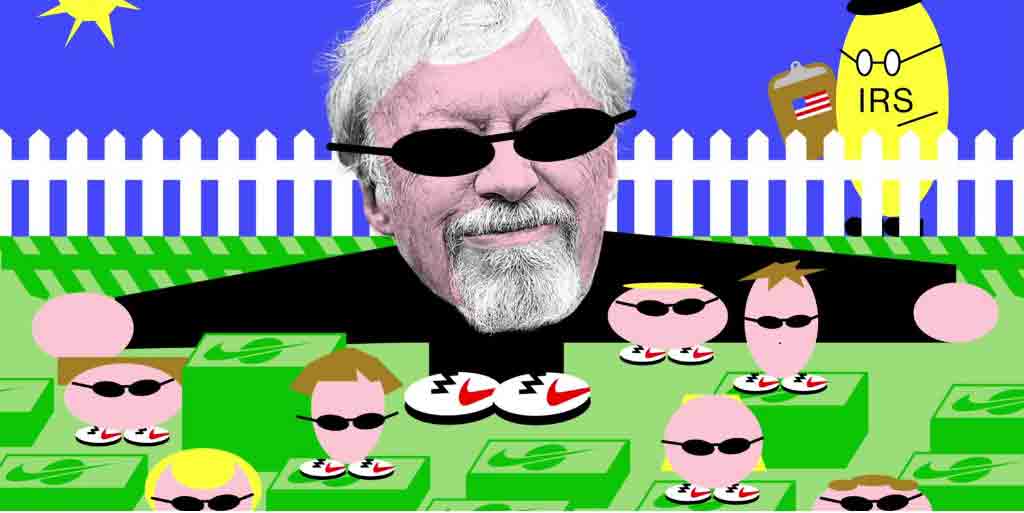 by Ben Steverman, Anders Melin and Devon Pendleton at Businessweek
Sitting in the bleachers by the University of Oregon's running track, Nike Inc. founder Philip Knight offered the sort of lofty promise many other super rich Americans have made over the past decade. The bulk of his money, he told CBS News that day in 2016, would be given away—eventually. "By the time the lives of my children and their kids run out, I will have given most of it to charity," he said. What Knight didn't mention was that, for years, he'd been using a range of legal techniques to ensure his heirs keep control of most of his assets and profit from them in the process, quietly transferring vast piles of money in a textbook example of how the rich avoid taxes.
Knight is now 83, and since founding Nike in 1964 he's built a fortune worth about $60 billion. He's hardly the only American billionaire to take advantage of lawful tax­-avoida­­nce tricks—filings show 
JPMorgan Chase & Co.
 Chief Executive Officer Jamie Dimon, 
Zoom Video Communications Inc.
 founder 
Eric Yuan
, and many others employ such tools. The family of 
Walmart Inc.
 founder Sam Walton 
pioneered
 one of the techniques Knight appears to have used. But because Nike is publicly traded and both Knight and his surviving son, 
Travis
, play roles on the company's board and 
must report their stock transactions
, theirs is the rare case that can be examined in detail from public filings, exposing a process that's usually shrouded in secrecy. 
Bloomberg Businessweek
 identified about $9.3 billion in Nike shares and other assets Knight has moved to his descendants, starting in 2009. The full total could be more.
"It's a perfect case study in how the major estate tax loopholes work in tandem and how the estate tax is entirely avoidable," says Robert Lord, a tax attorney in Arizona and a consultant for Americans for Tax Fairness, an advocacy group. Lord brought the transactions to Businessweek's attention. Knight's representatives declined to comment on them, beyond saying they were integrated into his philanthropic strategy…
The U.S. started collecting estate taxes in 1916…
Continue Reading