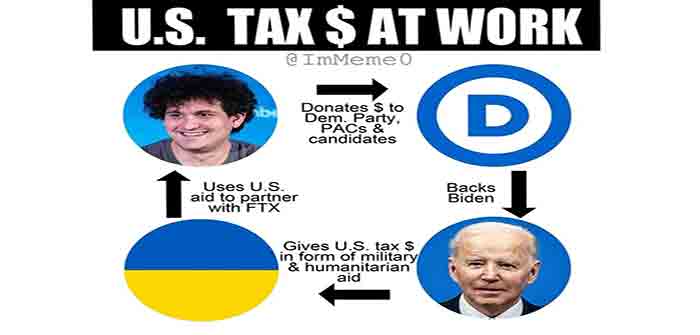 by Joe Hoft at The Gateway Pundit
Could this be a coincidence or is the fix in?
Sam Bankman-Fried was arrested on multiple counts of fraud after billions of dollars went missing from his cryptocurrency exchange FTX.  It's still unknown how much money went missing.
When we found that the government's case against SBF was initiated out of the DOJ's corrupt Southern District of New York (SDNY) we knew the fix was in.  The SDNY is the same district that brought charges against innocent We Build the Wall (WBTW) figures in a political hit.  The attorneys in the SDNY were certainly not going to prosecute SBF in the same manner they went after WBTW patriots.  They certainly weren't going to look into FTX's activities in Ukraine and with the Democrats as well.
DOJ's SDNY Released Their List of Charges Against Sam Bankman-Fried – Could Face Up to 115 Years – No Mention of Ukraine
We also found that the first judge over the case had conflicts of interest and still she allowed SBF to spend the holidays at his parents' house in California, flying first class there.
Then when the first judge recused herself for her conflicts with FTX, the next judge placed over the case is Bill Clinton appointed Judge Lewis Kaplan.
Kaplan has allowed the unfounded rape case against President Trump to move forward. Based…
Continue Reading