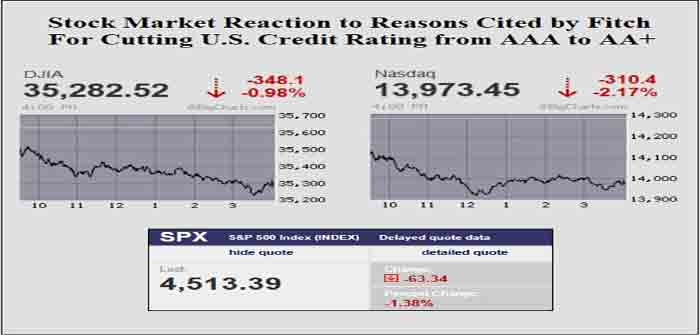 by Pam Martens and Russ Martens at Wall Street on Parade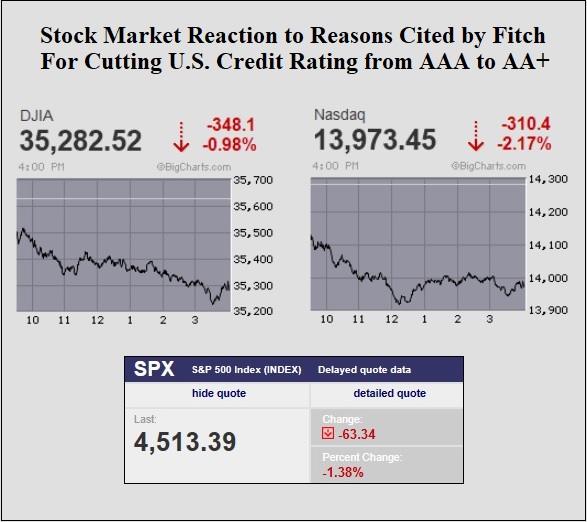 At 5:13 p.m. ET on Tuesday, after the stock market closed, Fitch downgraded the U.S. credit rating from AAA to AA+. Fitch is now the second of the three major credit rating agencies to have taken the historic step of removing the triple-A rating from the U.S. S&P made its first-ever downgrade to the U.S. credit rating on August 5, 2011, also from AAA to AA+, and has kept it there ever since. Moody's is now the only member of the Big Three credit rating agencies that has maintained a triple-A rating on the U.S.
As the chart above indicates, the stock market responded negatively to this development yesterday, particularly over the fact that it came at a time when the U.S. Treasury is boosting the amount of debt it is issuing.
Yesterday, the U.S. Treasury announced its plans to increase its debt issuance, writing as follows:
"Based on projected intermediate- to long-term borrowing needs, Treasury intends to gradually increase coupon auction sizes beginning with the August to October 2023 quarter. While these changes will make substantial progress towards aligning auction sizes with intermediate- to long-term borrowing needs, further gradual increases will likely be necessary in future quarters…."
In line with that view, the Treasury boosted its auction set for next week from $96 billion to $103 billion, consisting of $42 billion in a 3-year Treasury note; $38 billion in a 10-year Treasury note; and $23 billion in a 30-year Treasury bond.
Yields on both the 10-year note and 30-yield bond saw increases in their yields yesterday, meaning their prices were declining. (Bond prices move inversely to their yields.) The yield on the 10-year was trading in the range of 4.05 percent in the early morning yesterday, then moved up to 4.12 by late afternoon. It has continued to move higher this morning, yielding 4.15 percent at 7 a.m. The yield on the 30-year bond was trading in the range of 4.10 early yesterday morning, then moved sharply up at the day progressed, reaching a yield of 4.20 by 11 a.m. This morning, at 7 a.m., the 30-year is yielding 4.25 percent…
Continue Reading