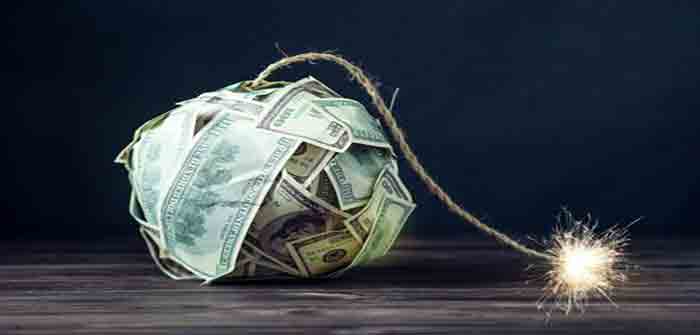 by Scott Horsley at NPR
The federal government's deficit nearly tripled in the first nine months of the fiscal year, a surge that's bound to raise concerns about the country's rising debt levels.
The Treasury Department said Thursday that the budget gap from October through June was nearly $1.4 trillion — a 170% increase from the same period a year earlier. The federal government operates under a fiscal year that begins October 1.
The shortfall adds to an already large federal debt — estimated at more than $32 trillion. Financing that debt is increasingly expensive as a result of rising interest rates. Interest payments over the last nine months reached $652 billion — 25% more than during a same period a year ago.
"Unfortunately, interest is now the government's fastest growing quote-unquote 'program,'" said Michael Peterson, CEO of the Peter G. Peterson foundation, which promotes fiscal responsibility.
Why the deficit is surging
The deficit ballooned both because of a sharp increase in government spending and a significant drop in tax revenues.
Treasury officials blamed the falling revenues on reduced investment gains last year. The S&P 500 stock index, for example, fell nearly 20% in 2022, during a period of uncertainty about the economy. While the index has since rebounded, investors realized fewer capital gains last year, and paid less in capital gains taxes this year.
Overall, tax revenues between October and June were 11% lower than the same period a year ago.
At the same time, government spending jumped 10%. Spending on major health care programs such as Medicare and Medicaid rose sharply. Social Security payouts jumped 11%, thanks in part to an 8.7% cost-of-living adjustment for retirees and other recipients — the largest such increase in four decades.
The government has also paid $52 billion so far to cover deposits at three regional banks that failed this spring. That money will come from the Federal Deposit Insurance Corp.'s deposit insurance fund and a special assessment on other big banks.
Can surging deficits be sustained?…
Continue Reading