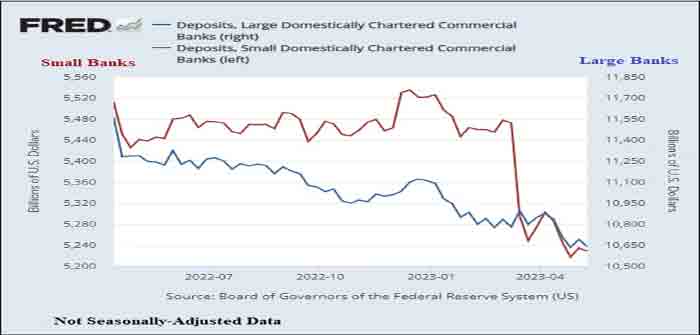 by Pam Martens and Russ Martens at Wall Street on Parade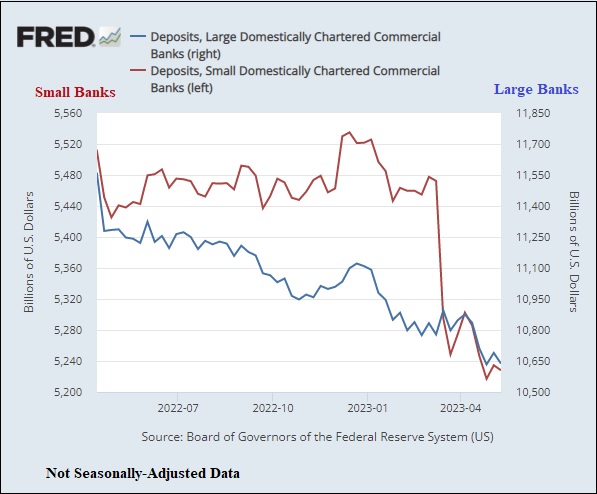 Pretty much everything the average American has read about the banking crisis is wrong. And there is at least a prima facie case that could be made that Big Media is responsible for that misinformation.
Let's start with the dozens of mainstream media reports that small banks were bleeding deposits and these deposits were flooding into the biggest banks in the U.S. as a safe haven. Those reports gave the distinct impression that the mega banks on Wall Street are viewed by Americans as a safe place to stash money, never mind that they blew up the U.S. financial system in 2008 and still have more than $200 trillion in derivatives lurking in the shadows.
According to FRED data compiled by the St. Louis Fed (see chart above), bank deposits at the 25 largest U.S.-chartered commercial banks peaked at $11.556 trillion on April 13, 2022, then went into a persistent downtrend that erased $457 billion of deposits by December 12, 2022. Meanwhile, the more than 4,000 small U.S. banks, on the other hand, produced a $25 billion gain in deposits in the same time span.
It was not until all of those news articles appeared in March and April of this year, saying that small banks were losing deposits, that the small banks actually saw a sharp drop in their deposits.
On March 13 of this year, the Financial Times ran this headline: "Large US banks inundated with new depositors as smaller lenders face turmoil." The subhead was even more questionable, reading: "Failure of Silicon Valley Bank prompts flight to likes of JPMorgan and Citi." (JPMorgan Chase has been charged with an unprecedented five felony counts by the U.S. Department of Justice over the past nine years. See JPMorgan's Board Made Jamie Dimon a Billionaire as the Bank Rigged Markets, Laundered Money, and Admitted to Five Felony Counts.) Citigroup's stock has been a basket case since the financial collapse in 2008. Citi did a 1-for-10 reverse stock split in 2011 to window dress its stock price.
On April 28, the Bloomberg columnist, John Authers, wrote a column that was syndicated to the Washington Post. Authers included this misleading information about the four largest U.S. banks: JPMorgan Chase, Bank of America, Wells Fargo and Citigroup's Citibank:…
Continue Reading