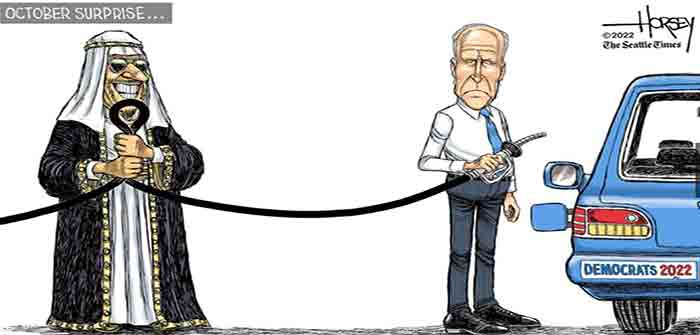 by Bernhard at Moon of Alabama
Last week the Saudis publicly snubbed the Biden administration. Several outlet picked up on that.
From the last one:
The CEO of the Future Investment Initiative (FII), the organiser of the "Davos of the Desert" Saudi investment conference said on Monday that US government officials will not be invited to attend the event at the end of this month. The reason, added Richard Attias, is so that the event does not turn into a "political platform".The decision not to invite US officials, unlike previous years, comes amid rising tension between Washington and Riyadh over the recent decision by the Saudi-led OPEC+ group to reduce oil output by 2 million barrels per day, starting in November.
…
"We are not inviting too many politicians," explained Attias, "because I realised that when you have political leaders on stage, the attention of the media, let's be very frank, is diverted to the political agenda, and we don't want the FII to become a political platform."

However, in an earlier press conference, the initiative's CEO said that at least "12 ministers of economy and finance" will attend this year's programme, with the possibility of inviting heads of state. "We will know in a few days who are the heads of state who are 100 per cent sure to attend."
The snub is significant. While lots of top U.S. bankers will take part the Biden administration will be given no chance to influence the Saudi investment plans.
However, the Biden's administration main propaganda outlet, the New York Times, won't have any of that. It depicts the Saudi snub as one done by the uninvited the Biden administration. It is also lying about the Biden administration's response:…
Continue Reading