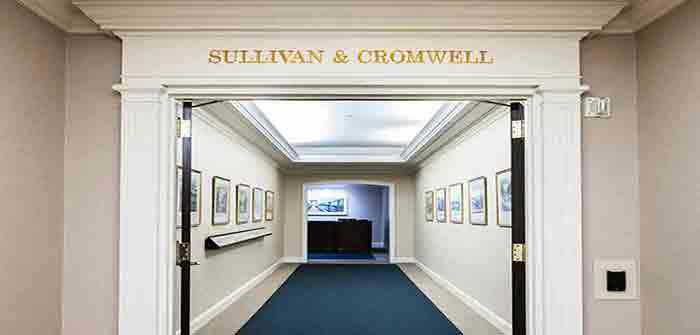 by Pam Martens and Russ Martens at Wall Street on Parade
We don't know what kind of legal kryptonite the University of California, Berkeley, School of Law is bestowing on its graduates but one young alumnus appears to be fearless about whom he takes on.
Marshal Hoda, the young attorney from a one-man office in Houston, who is representing two customers of the collapsed FTX crypto exchange, tested out his super powers in a January 20 hearing in the U.S. Bankruptcy Court in Delaware. Hoda is pitched against the 900-attorney Big Law firm of Sullivan & Cromwell in one of the most closely-watched (and bizarrely conflicted) bankruptcy cases in U.S. history.
Co-counsel with Hoda for the two customers are John D. McLaughlin, Jr. of Ferry Joseph, P.A. and Patrick Yarborough of Foster Yarborough, PLLC.
During the hearing, Hoda admonished Sullivan & Cromwell with this: "When you find yourself in a hole, stop digging." Hoda also accused the 144-year old law firm of "gamesmanship" over its serial delays in advising the court of its seemingly endless conflicts in the matter. Those jabs came on the heels of one of Hoda's clients, Warren Winter, berating Sullivan & Cromwell as follows in a court filing:
"Sullivan & Cromwell was one of the FTX Group's 'primary external law firms' before the FTX Group collapsed. To date, the FTX Group has paid the firm more than $20.5 million in fees and retainers. Now, in the most flagrant attempt by a fox to guard a henhouse in recent memory, Sullivan & Cromwell has applied to be appointed the FTX Group's bankruptcy counsel with duties that would include 'investigating all potential estate causes of action.' But it has revealed almost nothing about its prepetition work for Sam Bankman-Fried's fraudulent enterprise — and failed to disclose or elided glaring conflicts of interest."
The bankruptcy case involves the international crypto exchange,…
Continue Reading