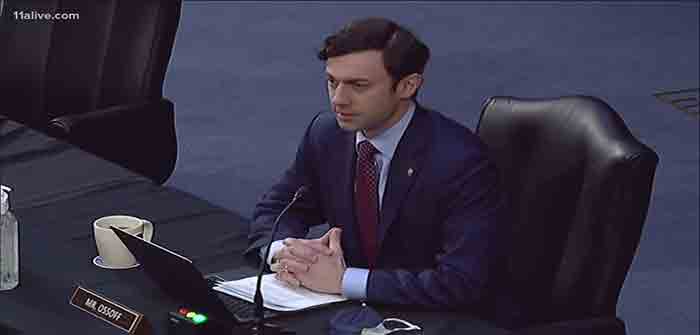 by Pam Martens and Russ Martens at Wall Street on Parade
The new, 34-year old Democratic Senator from Georgia, Jon Ossoff, let a very big cat out of the bag at yesterday's Senate Banking hearing. For at least a year, from September 17, 2019 through at least September 30, 2020, the New York Fed, acting as an agent for the Federal Reserve, doled out a cumulative $9 trillion or more in repo loans. The Fed would say only that the money was going to some of its 24 Primary Dealers on Wall Street, without naming any specific bank receiving the money. In June of 2020, the New York Fed abruptly stopped reporting the dollar amounts it was pumping out each day. (See Watchdog Report: Fed's Billions in Emergency Repo Loans to Wall Street Didn't Go Away in June; They Just Went Dark.)
The emergency repo loans by the Fed began months before there was any case of COVID-19 reported anywhere in the world.
It would now appear that the Senate Banking Committee knows where that money actually went. As a new member of that Committee, Senator Ossoff would be entitled to access that information.
The purpose of yesterday's Senate hearing was to confirm two of President Joe Biden's watchdog nominees – Gary Gensler for Securities and Exchange Commission Chair and Rohit Chopra for Director of the Consumer Financial Protection Bureau. Ossoff revealed the previously undisclosed information in this exchange with Chopra:
Ossoff: "Mr. Chopra, the largest investment banks are very heavily subsidized. And many would argue these massive financial institutions are dominant not because they're efficient at capital allocation or risk management or because they offer the best products to consumers, but instead because they receive trillions in government bailouts, low interest loans, and quantitative easing. Do you agree with this assessment and is this in your view a form of regulatory capture?"

Chopra: "Well Senator, too big to fail is a huge problem that Congress sought to fix in Dodd-Frank [financial reform legislation of 2010] and we should continue to make sure that that happens. We want competition on the merits. We want to make sure there's a market structure where small banks, small financial institutions can compete fair and square. And, it's not fair if they can't. Our regulators need to be attuned to every single consumer and institution, not just the largest ones."

Ossoff: "Appreciate that Mr. Chopra and building on that theme, during this pandemic, much like the crisis of 07-08, the 12 or 13 largest banks have received trillions in emergency cash. It's provided on an overnight basis, and there is no such instantaneous emergency cash for credit unions or regional banks, let alone ordinary people, who have had to wait months for stimulus checks. And I would note that many members of Congress who currently oppose sending cash to ordinary people in a pandemic, raise no concerns about the massive scale of cash and cheap loans provided to Wall Street banks…."
There is no question that Ossoff is referring to the repo loan operations of the New York Fed because that is the only entity that made loans of that magnitude on "an overnight basis."
The Senate Banking Committee likely obtained its information in response to a letter Senators Sherrod Brown, Elizabeth Warren, Jack Reed and Tina Smith sent to Federal Reserve Chair Jerome Powell on February 5 of last year. At that point in time, the tally of the repo loans had reached a cumulative $6.6 trillion according to the public data we accessed at the New York Fed.
In the letter, the Senators demanded answers to the following questions from the Fed:…
Continue Reading