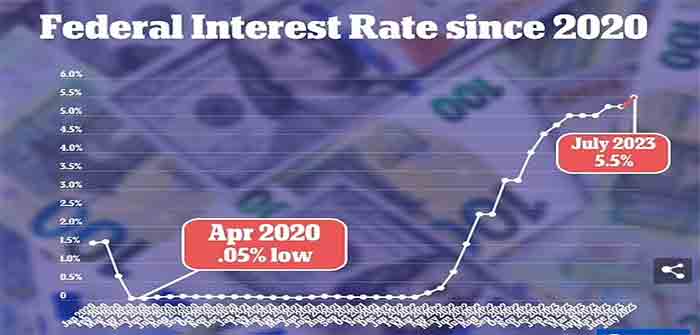 by Tilly Armstrong and Helena Kelly at Daily Mail
The Fed raised interest rates by a quarter percentage point, after pressing pause on hikes last month 
The central bank made the unanimous decision to raise rates to between 5.25 and 5.5 percent – the highest level in 22 years
Credit card loans are among the most vulnerable to interest rate hikes, experts warned following the announcement 
The Federal Reserve has raised interest rates by a quarter percentage point, taking benchmark borrowing costs to the highest level in more than two decades.
In a much-anticipated move, the central bank made the unanimous decision to raise rates to between 5.25 and 5.5 percent – a range not seen since early 2001.
It comes after the Fed pressed pause on interest rate rises for the first time in 15 months in June, to allow time to assess the impact of its aggressive drive to dampen inflation.
The central bank's 18 policymakers held rates steady following ten consecutive hikes since March 2022, which saw mortgages and borrowing costs soar.
Following today's announcement, the Fed made minimal changes to its postmeeting statement, offering no new guidance about its future policy plans as households braced for further price increases.
Continue Reading