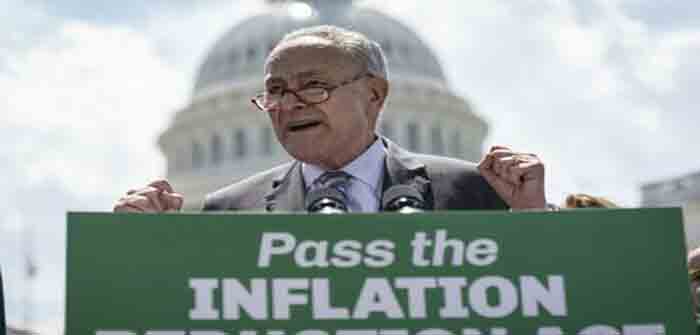 by Joseph Lord at The Epoch Times via ZeroHedge
While Democrats insist that the Inflation Reduction Act won't boost taxes on people making less than $400,000 a year, collateral effects from the legislation will cause workers and small businesses alike to pay more, according to Preston Brashers, a senior tax policy analyst at the right-leaning Heritage Foundation.
The measure, hammered out as a compromise agreement between moderate Sen. Joe Manchin (D-W.Va.) and Senate Majority Leader Chuck Schumer (D-N.Y.), serves to fulfill a series of broad Democratic aspirations: increasing federal revenue by closing so-called tax loopholes, enacting climate change policies, expanding the Affordable Care Act, and reducing prescription drug prices.
Its supporters say the legislation also will help to slow the growth of the ballooning U.S. national debt by decreasing the deficit.
While it authorizes about $433 billion in new spending, Democrats' internal estimates suggest that the bill will bring in around $725 billion in new revenue to the federal government, thus reducing the federal deficit and slowing the growth of the national debt. Specifically, Democrats estimate that the bill will reduce the deficit by about $292 billion annually.
The bill won't directly increase taxes on individuals at any income level…
Continue Reading