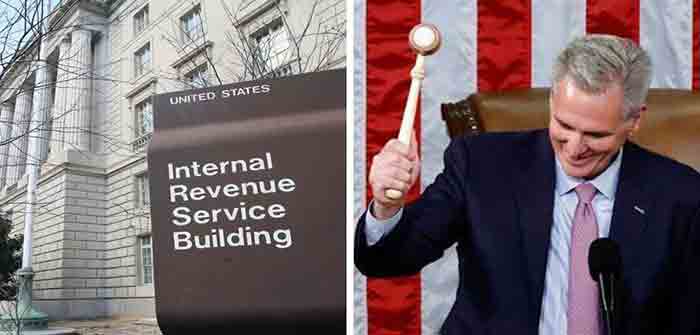 by The Post Millennial News Staff at The Post Millennial
The House of Representatives fulfilled Speaker Kevin McCarthy's promise to prevent the Internal Revenue Service from hiring 87,000 new agents and conducting new audits on Americans by voting to rescind over $70 billion in funding to the agency Monday night.
The Family and Small Business Taxpayer Protection Act, sponsored by Rep. Adrian Smith (R-NE), and Rep. Michelle Steel, (R-CA) passed by a vote of 221-210 and rescinds funding that could have been used to double the agency's current size as well as conduct new audits on Americans.
The bill rolls back billions of dollars in funding for the IRS that was approved in last year's Inflation Reduction Act. However, the legislation does leave in place funding for customer service and improvements to IT services.
🚨 BREAKING → The House just voted to repeal funding for Biden's 87,000 new IRS agents.

Every Democrat voted no. Tells you all you need to know.

— Steve Scalise (@SteveScalise) January 10, 2023
The Inflation Reduction Act designated $80 billion to…
Continue Reading