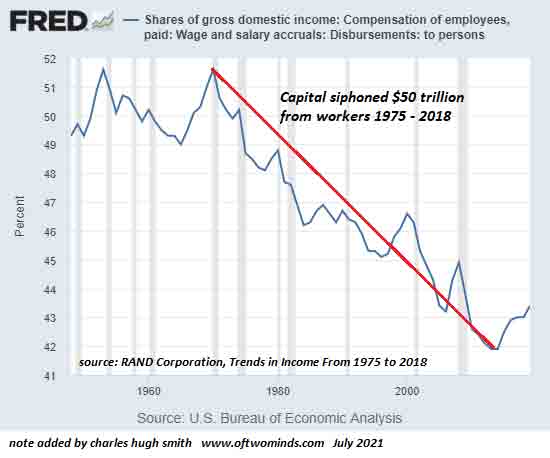 by Charles Hugh Smith Of Two Minds
Outsiders are shocked when things fall apart. Insiders are amazed the duct-tape held this long. The erosion of critical skills and institutional knowledge is invisible to outsiders, while everyone inside who saw the unstoppable decay either left or burned out.
Those who remain are the ambitious who lack the experience to reverse the decline and the self-awareness to realize they're way over their head. They're ambitious enough to want the managerial title and power but don't have the necessary experience and competence to lead a brutally difficult and painful turnaround.
So they either "stay the course" doing more of what's failed or they flail around, trying one reorganization-fad-of-the-day after another, pushing the few remaining competent staffers to leave and thus steepening the decline.
Everyone who cared and was competent in the support staff either left or burned out trying to doing three jobs at once. The most prescient and experienced staffers noted the decline in managerial competence and the decay of the operational skills needed to keep the ship afloat, and so they found a better position elsewhere or retired early.
The less prescient but competent then tried to compensate for…
Continue Reading