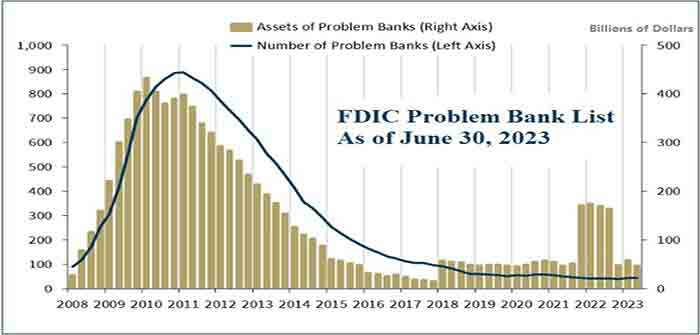 by Pam Martens and Russ Martens at Wall Street on Parade
Last Thursday, the Federal Deposit Insurance Corporation (FDIC) released its Quarterly Banking Profile for the quarter ending June 30, 2023. The report includes the FDIC's Problem Bank List. While the actual names of the problem banks aren't provided, the total assets listed provide an indication of whether any large banks are on the list.
The FDIC's first quarter banking profile had published a "Problem Bank List" showing just 43 banks with total assets of $58 billion as of March 31, 2023. Unfortunately, on March 10 Silicon Valley Bank blew up with assets at year-end 2022 of $209 billion. Two days later, on March 12, Signature Bank blew up with assets of $110 billion as of year-end. Clearly, the FDIC did not see these as problem banks in advance of their blowing up in a matter of days.
What the FDIC did know by last Thursday, however, was that on May 1 First Republic Bank had also blown up. As of year-end, it held assets of $213 billion. Since May 1 falls within the second quarter of the year, we would have expected to see a corresponding increase in the size of the bank assets listed on the FDIC's Problem Bank List when it was released last Thursday.
Instead, the FDIC was still clinging to its Alice in Wonderland approach to the banking landscape in the U.S. Its Problem Bank List for the second quarter showed the number of problem banks unchanged at 43 while the assets of those banks declined from $58 billion at the end of the first quarter to $46 billion at the end of the second quarter.
First Republic Bank was the second largest banking failure in U.S. history. (The largest bank failure was Washington Mutual during the financial crisis of 2008.) Silicon Valley Bank was the third largest bank failure in U.S. history while Signature Bank ranks fourth.
On August 21,…
Continue Reading