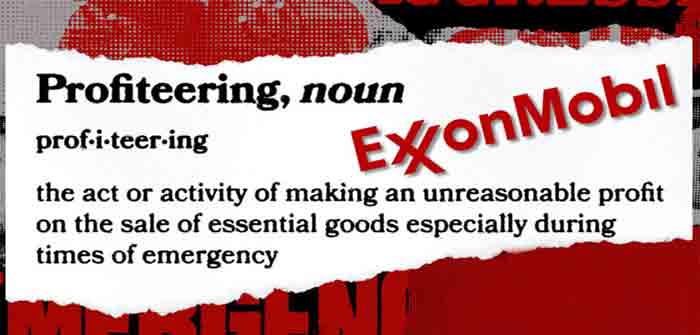 by Brett Wilkins at the Defender
As ExxonMobil on Tuesday joined other U.S. oil companies in reporting record 2022 earnings amid rising gas prices, consumer and climate advocates renewed calls for a Big Oil windfall profits tax.
Texas-based ExxonMobil posted a $55.7 billion profit last year, breaking not only its own previous company record — $45 billion in 2008 — but setting a historic high for the Western oil industry, according to Reuters.
The company's profit is a 144% increase from 2021 and, as Fossil Free Media director Jamie Henn noted, "enough money to send every person in the U.S. $178 to help offset the costs of high fossil fuel costs and gas bills."
Marathon Petroleum — the top U.S. refiner — said Tuesday that it raked in $16.4 billion last year while approving a $5 billion stock buyback, and Phillips 66 reported $8.9 billion in adjusted 2022 profit, a 253% increase from 2021.
Tuesday's earnings reports came just days after Chevron announced a…
Continue Reading