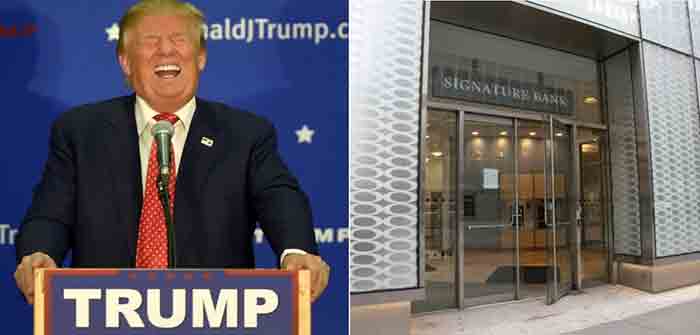 by Kyle Becker News at Becker News
Trump has gotten the last laugh in his battle against a 'Woke' bank that closed his account in the aftermath of the 2020 election. Signature Bank is now finding itself closed.
Signature Bank of New York was seized by regulators on Sunday evening, the second failure of a regional bank in about 48 hours.
It was the third largest bank failure in U.S. history, and follows two days after authorities shuttered Silicon Valley Bank, itself the second largest failure in U.S. history.
After the January 6 Fedsurrection, Signature Bank issued a self-righteous statement that was a signature example of Woke stupidity.
"We have never before commented on any political matter and hope to never do so again," said the New York-based bank led by Joseph J. DePaolo. "However, as Americans we are deeply, deeply saddened by the rioting and insurrection which took place in the most sacred of American institutions, our United States Capitol."
Signature closed Trump's personal accounts at the bank and warned "will not do business in the future with any members of Congress who voted to disregard the Electoral College."
If Signature bank meant Congressional members who…
Continue Reading