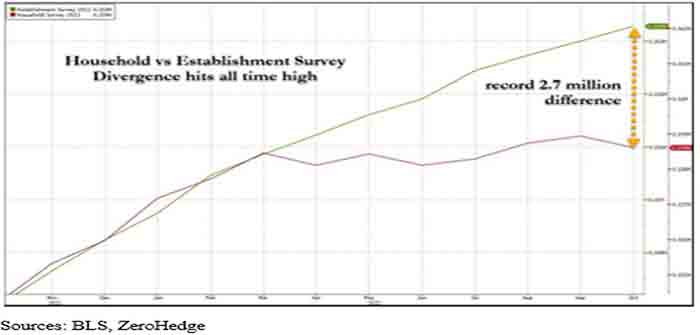 by Sundance at The Conservative Treehouse
The Bureau of Labor Statistics (BLS) published a jobs report yesterday [DATA LINK] that has stunned the professional financial class.   However, those who have followed the BLS data assemblies were laughing – not surprised.  Eventually, if this continues, the BLS pretzel logic will start using terms like "eleventy."
Throughout 2022, the BLS modified the underlying data they used to assemble their jobs reporting.  The latest release shows that 517,000 jobs were gained in the labor market, despite every other economic indicator showing we are in an economy of contraction.  The question becomes, why the disconnect?
There are two surveys that make up the BLS reporting.  The Household survey is conducted by calling people and just asking if they are employed.  The Payroll survey is conducted by reviewing large and medium businesses, no small businesses are included, and that plays a role in the disconnect.
Since the spring of last year, the two surveys have completely disconnected from each other.   The household survey finds a net gain of 12,000 jobs in the last three quarters; the Payroll survey shows gains of 2.7 million jobs during the same time.
ZeroHedge did a good dive on the issue (SEE HERE), and their analysis reports, "[…] the number of full-time workers in March 2022 was 132.587 million. Fast forward to January 2023 when it was 132.577: that's right: total US full-time workers declined by 10K over a period of 10 months. Meanwhile, part-time workers soared from 25.908 million to 27.400 million, an increase of 1.492 million! So at least we know where the bulk of the increase in US labor came from in the past year: virtually no full-time jobs, and all part-time."
Additionally, Forbes dove into the data (SEE HERE) and reached a similar conclusion, the BLS data is all nonsense covered in statistical noise…
Continue Reading