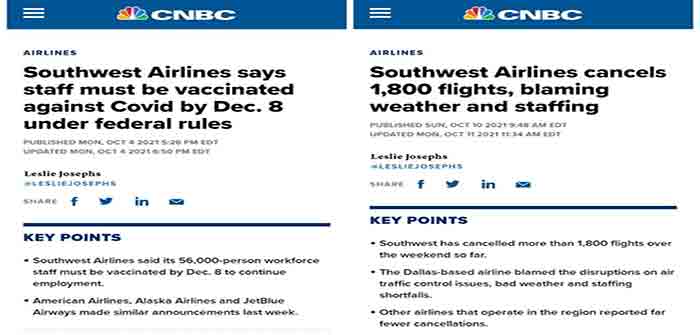 by Tom Pappert at National File
Southwest Airlines CEO Gary Kelly appeared on Good Morning America today to discuss the massive delays his airline has faced, rumored to be caused by a vaccine mandate "sick out." While he denied these rumors, he explained that he does not want his company to have a vaccine mandate, but is forced to comply with Joe Biden's "controversial" mandate.
Kelly appeared on various morning programs this week after Southwest Airlines suffered humiliating canceled flights causing confusion and chaos at airports throughout the country. While the canceled flights were rumored to be caused by a "sick-out" of airline employees protesting the COVID-19 vaccine mandate, Kelly denied this.
However, Kelly acknowledged that the mandate is "controversial" and seemed to suggest the airline would not have such a mandate without the Biden White House's force.
"The vaccine mandate obviously is controversial and it's not anything that I wish for our company," said Kelly. This is a government mandate, it's a presidential order, and we're doing our best to comply with that according to the deadlines as they have been set."
"We're not going to fire any employees over this," Kelly claimed. "We're urging all of our employees to get vaccinated. If they can't get vaccinated, we're urging them to seek an accommodation." He added, "So, we'll do everything we can to support our people here."…
Continue Reading