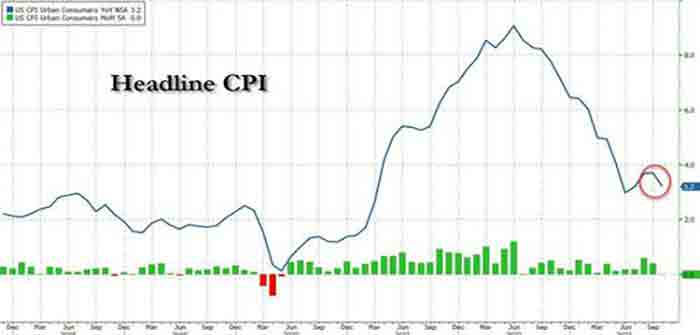 by ZeroHedge News Staff at ZeroHedge
Following two months of hotter than expected prints (driven by surging energy prices and healthcare methodology changes), the October CPI print was expected to slow materially from the previous month (from 3.7% to 3.3% on headline) even if core was expected to remain unchanged at 4.1%. What we got, however, was a whopper, with CPI missing across the board with both headline and core prints coming in below expectations on both a sequential and annual basis.
Starting with the headline CPI, it came in at 3.2%, below the 3.3% expected, while MoM CPI also missed expectations, printing unchanged (0.0%), below the consensus of a 0.1% print, and sharply below last month's 0.4% print.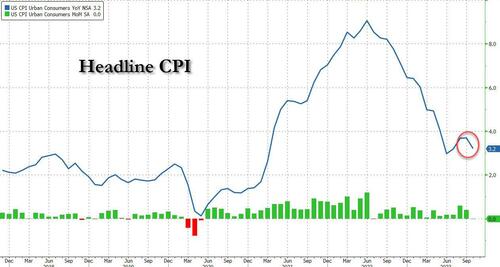 A similar picture emerged on core CPI, where the October MoM print was 0.2%, below the 0.3% consensus estimate and down from the 0.3% increase in Sept, while YoY managed to drop from 4.1% to 4.0% missing expectations of an unchanged print, and the lowest since Sept 2021!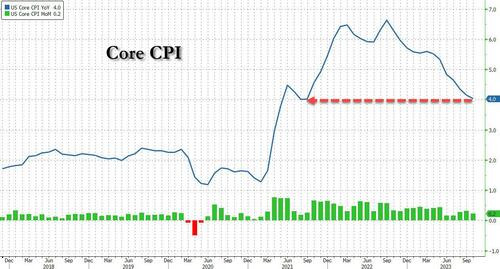 According to the BLS, the index for shelter continued to rise in October…
Continue Reading