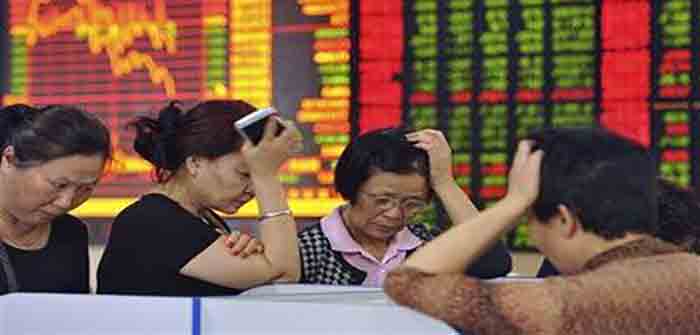 by Tyler Durden at ZeroHedge
The week started off badly enough with nothing short of epic devastation in China, as stocks listed in Hong Kong had their worst day since the global financial crisis amid concerns over Beijing's close relationship with Russia, a surge in covid cases leading to a lockdown in Shenzhen, and renewed regulatory risks all of which sparked panic selling.
The Hang Seng index dropped more than 4%, sliding below 20,000 to the lowest level since 2015…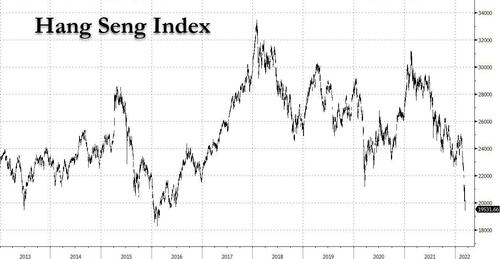 … as the Hang Seng China Enterprises Index closed down 7.2% on Monday, the biggest drop since November 2008.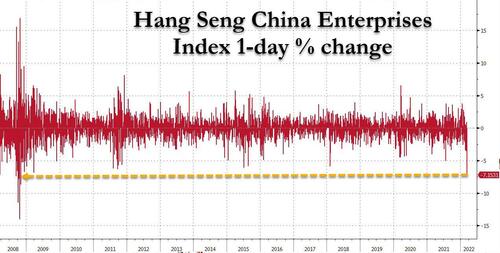 Meanwhile, the Hang Sang Tech Index tumbled 11% in its worst decline since the gauge was launched in July 2020, wiping out $2.1 trillion in value since a year-earlier peak, after the southern city of Shenzhen, a key tech hub near Hong Kong, was placed into lockdown to contain rising Covid-19 infections. The broader Hang Seng Index lost 5%.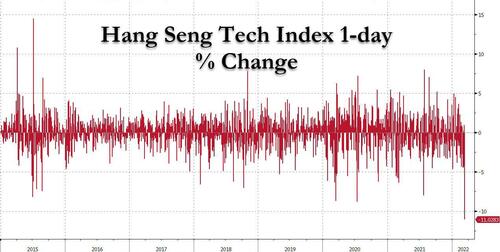 The US-traded Golden Dragon China index tumbled another 12%, taking its drawdown to -75% from its recent all time high, surpassing the drawdown recorded during the global financial crisis!..
Continue Reading