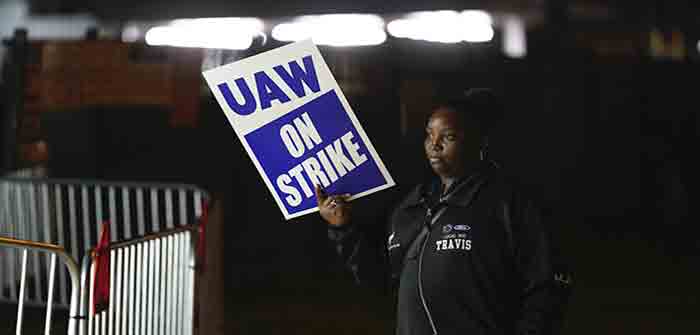 by Zachary Halaschak at Washington Examiner
The country's largest auto union began a historic strike at midnight on Friday. Here is what to know about why auto workers are striking and what is at stake.
United Auto Workers President Shawn Fain announced the move at a Thursday night press conference. In making the announcement, he emphasized the magnitude of the decision and said that three different Big Three auto plants would see work stoppages.
UAW ANNOUNCES HISTORIC AUTO STRIKE AFTER NEGOTIATIONS WITH AUTOMAKERS FALTER
"This is our generation's defining moment," Fain told his members. "The world is watching."
Why is this strike historic?
The union represents some 150,000 workers at General Motors, Ford, and Stellantis, the company that took over Chrysler's operations, so the number of people involved is huge.
Any union of that size announcing strike action is big news. The last time UAW went on strike, a six-week stoppage against GM in 2019, it cost the auto giant some $3.6 billion and Michigan, home of many GM workers, experienced a recession during that quarter.
But this time is a bit different. This strike is the first-ever…
Continue Reading