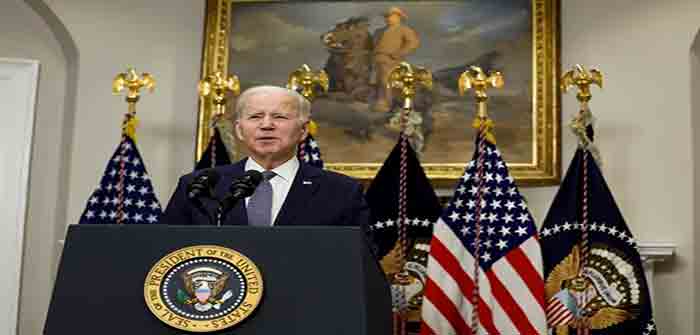 by New York Post Editorial Board at New York Post
President Joe Biden loves to take credit where it isn't due. His latest?
"Thanks to the quick action of my administration over the last few days, Americans can have confidence that the banking system is safe," the prez smugged Monday morning of his administration's extraordinary move Sunday to make whole the depositors of Silicon Valley Bank, far above FDIC-insured amounts, to head off possible systemic failures.
First, it's been less than two days — far too soon to see if the wider danger is over.
Worse, this "Joe to the rescue" schtick is completely disingenuous. Biden's dismal economic leadership got us here.
He dumped trillions into an economy already running hot in 2021.
He dumped trillions into an economy already running hot in 2021. When inflation headed for the stratosphere, the White House first dismissed it as "transitory," then insanely tried to pin the biggest blame on Russian President Vladimir Putin and greedy corporations for the price hikes punishing everyday Americans.
The resultant rate hikes as the Federal Reserve moved belatedly and aggressively to tame inflation cratered the value of SVB's "safe" long-maturity investments; when withdrawals forced premature liquidations, the overextended bank (yes, SVB management shares the blame too) was finished.
Meanwhile, Biden's Treasury secretary has been busy trying to negotiate a global deal for higher taxes worldwide, while his other financial regulators have focused on pushing social-justice priorities (including his energy-price-hiking "climate change" agenda) in the corporate world…
Continue Reading