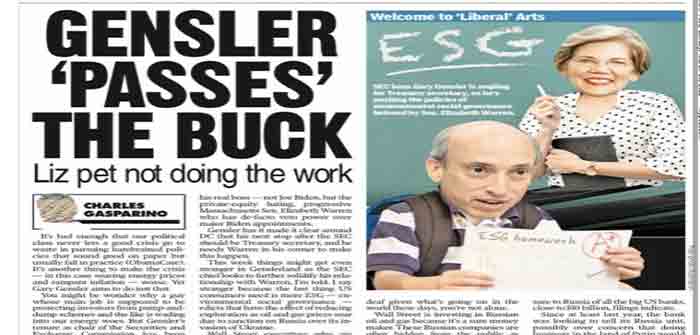 by Mish at Mish Talk
SEC Mandate Idiocy
President Biden does not have the votes to pass his energy policy, so instead he tries to bully the Fed and the SEC.
Consider the SEC's Energy Proposal now open for comments (guaranteed to be ignored).
 The Securities and Exchange Commission ("Commission") is proposing for public comment amendments to its rules under the Securities Act of 1933 ("Securities Act") and Securities Exchange Act of 1934 ("Exchange Act") that would require registrants to provide certain climate-related information in their registration statements and annual reports.
The proposed rules would require information about a registrant's climate-related risks that are reasonably likely to have a material impact on its business, results of operations, or financial condition.
The required information about climate-related risks would also include disclosure of a registrant's greenhouse gas emissions, which have become a commonly used metric to assess a registrant's exposure to such risks. In addition, under the proposed rules, certain climate-related financial metrics would be required in a registrant's audited financial statements.
SEC Act of 1934
The purpose of the Securities Exchange Act of 1934 is to prevent fraud,  prevent securities theft, ensure fairness, halt insider trading, and prevent companies from distributing false financial information.
Nowhere does the Securities Act of 1933 or 1934 grant the SEC to promote Green policies at its whim.
The SEC is not, or at least should not be, in the business of implementing let alone creating climate change policy.
Yet that is precisely the intent.
Climate Change Coup
The Wall Street Journal comments on the SEC's Climate Coup:…
Continue Reading