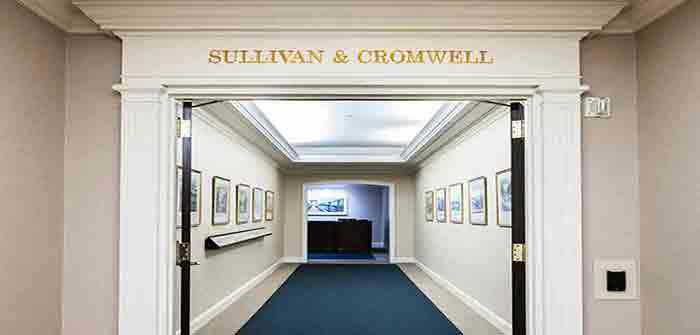 by Pam Martens and Russ Martens at Wall Street on Parade
In a January 12 Substack column penned by Sam Bankman-Fried, the indicted co-founder and former CEO of collapsed crypto exchange, FTX, he writes that "When I would visit NYC, I would sometimes work out of S&C's office." S&C is shorthand for the 144-year old Big Law firm, Sullivan & Cromwell, which has come under withering media attention for attempting to steamroll its way into the position of lead counsel in the FTX bankruptcy proceedings – including investigating its own conduct as outside counsel to Sam Bankman-Fried and his byzantine collection of crypto companies.
Wall Street On Parade has been covering the mushrooming conflicts of interest held by Sullivan & Cromwell since two days after FTX (and its herd of more than 100 related companies) filed their Chapter 11 bankruptcy petition on November 11. Today, we will shine an even brighter light on those conflicts.
The 8-count criminal indictment against Sam Bankman-Fried by the U.S. Department of Justice makes it clear that pretty much everything Sam Bankman-Fried did involving electronic business communications from 2019 to November 2022 was wire fraud deployed to misappropriate customer deposits and use "those deposits to pay expenses and debts of Alameda Research, Bankman-Fried's proprietary crypto hedge fund, and to make investments" in other companies, most of which were crypto related. If Bankman-Fried was on the premises of Sullivan & Cromwell during that span of time, which appears highly likely since he came to New York for meetings and speaking engagements, there is also the strong likelihood that he engaged in the alleged wire fraud from their premises.
Just being on the premises of Sullivan & Cromwell and using their phones or wi-fi without their knowledge to commit wire fraud might not be a fatal conflict against the law firm, were it not for the fact that Wall Street On Parade has discovered that an inordinate amount of Sullivan & Cromwell's other current clients appears to have received more than $1 billion of FTX's misappropriated customer funds.
On December 21, Sullivan & Cromwell…
Continue Reading