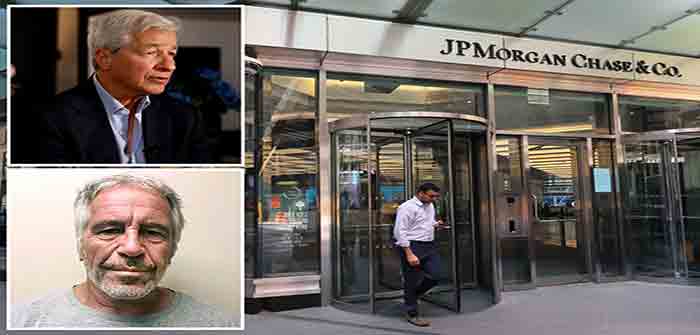 by Pam Martens and Russ Martens at Wall Street on Parade
JPMorgan Chase is in a protracted legal battle in a federal district court in Manhattan over highly credible allegations that it "actively participated" in Jeffrey Epstein's sex-trafficking of minors. The lawsuit has been brought against JPMorgan Chase by the Attorney General of the U.S. Virgin Islands where Epstein owned a private island compound that was a frequent venue of the sex trafficking operation.
Part of the bank's damage control strategy has been to sue one of its former top executives, Jes Staley, making him a third-party defendant in the same case, and attempting to convince the Judge and the media that Staley is mainly responsible for the bank keeping sex trafficker Epstein as a client for more than 15 years (and perhaps as long as 28 years). The bank says in court documents that it wants to claw back Staley's $140 million in compensation for his "disloyalty" and "faithless service" to help pay for its legal expenses and $290 million settlement in a related case with Epstein's victims.
But the Staley scapegoating as a legal strategy is starting to look threadbare as internal documents keep turning up to undermine the legal rationale of this argument. On August 25, JPMorgan itself filed a document showing that another executive at the bank, Justin Nelson, visited Epstein's residences more times than Staley. Nelson was at Epstein's Manhattan mansion – a key location of the sex trafficking operation – 12 times and one time at Epstein's Zorro Ranch in New Mexico – an additional location of the sex trafficking ring. That's a total of 13 visits to the residence of a sex trafficker. Staley's visits to Epstein's residences tally up to just 11, according to JPMorgan's chart. (See pages 4 and 5 at this link.) Eight of Nelson's visits to Epstein's residences occurred after 2013, the year that the bank claims it fired Epstein as a client. Disbursements from Epstein accounts were occurring long after 2013 according to court documents, raising questions about just when, or if, Epstein was terminated as a client from the Private Bank or the bank's  brokerage unit, J.P. Morgan Securities. Nelson was dually employed at both units.
Nelson is not being sued by JPMorgan Chase. Instead, according to files at the self-regulator, FINRA, Nelson is working out of JPMorgan's Greenwich, Connecticut office – which caters to hedge funds – and is a Managing Director and "Team Lead" in its Private Bank. FINRA records also show that Nelson was allowed by the firm to take the General Securities Sales Supervisor examination in August of 2020, suggesting that Nelson is now supervising others.
There is another highly problematic internal document involving…
Continue Reading