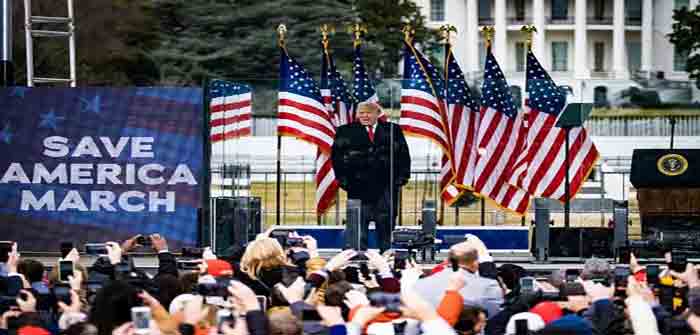 by Jonathan Turley at Jonathan Turley
This is the one year anniversary of the disgraceful rioting in the Capitol building. The scenes of that day are seared in the memory of many of us. I publicly condemned Trump's speech while it was being given and I called for a bipartisan vote of censure over his responsibility in the riots. However, I have long maintained that there was no evidence to support a criminal charge against Trump for incitement. Yet, a year ago, various legal experts declared that Trump should be charged based on his speech and his delay in calling for protesters to leave Capitol Hill. District of Columbia Attorney General Karl Racine announced that he was considering arresting Trump, Donald Trump Jr., Rudy Giuliani and U.S. Rep. Mo Brooks and charging him with incitement.  So, a year later, what ever happened to the prosecution of Donald Trump?
Racine and others were not restrained by Republicans in Congress and clearly were eager to make the "clear" case for prosecution. The fact is that they were restrained by the Constitution and the media attention over their dubious claims quietly faded away like so many other "slam dunk" charges highlighted on cable news programs.
Democratic politicians and commentators are still demanding that Trump be criminally charged. Former Democratic Sen. Claire McCaskill, now an MSNBC analyst, recently declared that Attorney General Merrick Garland would "go down in infamy as one of the worst attorney generals in this country's history" if former President Trump is not charged. Garland seemed to respond to the pressure this week by pledging that his department would charge any responsible "at any level."
Those three words revived the hopes of many on CNN and MSNBC, which spent four years trafficking in often unfounded theories of criminality against Trump and his family. Indeed, many of the same legal experts reappeared to offer assurances that Trump can still be frog marched to the hoosegow.
It is all too familiar. Just a year ago, cable networks were riding high on ratings by offering a steady diet of blockbuster stories establishing clear criminal conduct by Trump or his family. Former House counsel Norman Eisen was assuring viewers that Trump was "colluding in plain sight" and the criminal case against Trump for obstruction of justice was overwhelming. Professor Richard Painter was explaining the clear case of treason against Trump. Professor Laurence Tribe declared the dictation of a misleading statement about the Trump Tower meeting constituted witness tampering. Tribe further claimed strong cases for obstruction of justice, criminal election violations, Logan Act violations, and extortion by Trump or his family.  Others explained that Trump could be charged with negligent homicide over the Covid-19 crisis.
The same figures were back on Jan. 6th to declare the Trump speech to be sufficient for prosecution. Legal analyst Elie Honig said he would "gladly show a jury" his inflammatory remarks and "argue they cross the line to criminality." Professor Richard Ashby Wilson said, "Trump crossed the Rubicon and incited a mob to attack the Capitol as Congress was in the process of tallying the Electoral College vote results. Trump should be criminally indicted for inciting insurrection against our democracy." Laurence Tribe declared, "This guy was inciting not just imminent lawless action, but the violent decapitation of a coordinate branch of the government, preventing this peaceful transition of power and putting a violent mob into the Capitol while he cheered them on."
So what happened?…
Continue Reading