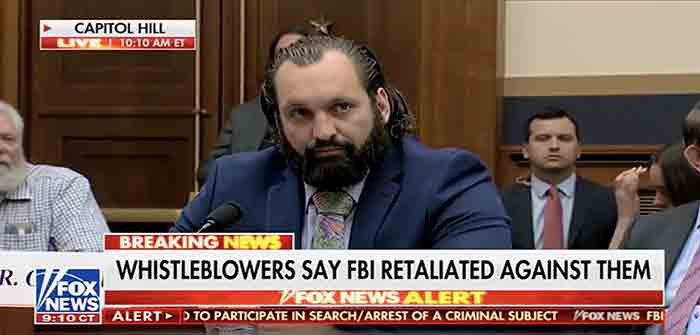 by Alisha Rodriguez at Republic Brief
Whistleblower Garret O'Boyle gave an impassioned speech on the final day of the hearing that was held by the Weaponization subcommittee on Thursday. His speech was a scary climax to the hearing, and it left attendees and onlookers in awe.
The statements of O'Boyle brought to light the magnitude of the ongoing problem of corruption, weaponization, and wrongdoing that exists throughout the American government. His alarming allegation that the FBI and the government will stop at nothing to crush truth-tellers sent shockwaves through the room when he said it.
During the course of the hearing, O'Boyle presented damning evidence of corruption within the system, illuminating the shadowy aspects of power. He courageously denounced the unethical behavior that is pervasive in our culture and cautioned others about the severe repercussions they may suffer if they were to reveal the truth.
"Corruption, weaponization, any kind of misconduct that exists with the American people. It doesn't solve it. But the FBI will crush you." The terrifying remark acted as a warning to people who think they can question the current quo without suffering repercussions. O'Boyle's own experience demonstrates the risks that challengers of authority endure.
He continued, "This government will crush you and your family if you try to expose the truth about things that they are doing that are wrong. We are all examples of that." These somber comments demonstrate the lengths to which the administration will go in order to quell dissent and hide its wrongdoings.
In closing the session, committee member Kelly Armstrong (R-ND) observed, "I can't think of a more sobering way to end a hearing."
O'Boyle spent the whole hearing explaining the extraordinary measures he took to safeguard his livelihood after being relieved of his duties just one day after moving his family across the country at the agency's behest, leaving them homeless and compelled to "beg."
"I am sad, I am disappointed, and I am angry" about the "weaponization" of the Bureau and Department of Justice against President Joe Biden's political adversaries, Special Agent Garret O'Boyle told Congress. O'Boyle tragically detailed his family's hardship throughout his unpaid suspension:
"My oath did not require me sacrificing the hopes, dreams, and livelihoods of my family. My strong, beautiful, and courageous wife and our four sweet and beautiful daughters have endured this process along with me. In weaponized orders, the FBI allowed me to accept a new position halfway across the country. They allowed us to sell my family's home. They ordered me to report to the new unit when our youngest daughter was two weeks old. Then, on my first day on the new assignment, they suspended me, rendering my family homeless. They refused to release our goods, including our clothes, for weeks," O'Boyle testified.
WATCH:
Republicans have initiated inquiries after gaining control of Congress investigating the FBI's conduct of the Capitol riots on January 6, 2021, as well as inquiries into pro-life activists and other opponents of the Biden administration. At the hearing on Thursday, several agents gave testimony about how being whistleblowers had endangered their careers.
Separately, Rep. Marjorie Taylor Greene (R-GA) said on Thursday that articles of impeachment had been filed against President Biden, Attorney General Merrick Garland, and FBI Director Christopher Wray for the "weaponization" of federal law enforcement agencies or for acting negligently. Michael Graves, the U.S. Attorney for the District of Columbia, was highlighted by Green as an example of how he has permitted "67 percent of arrests to go unprosecuted," many of which involve violent offenses.
A group of retired FBI agents, all with more than 20 years of service, have written an open letter urging changes to the organization to stop the politicization they claim started when former FBI Director James Comey looked into then-President Donald Trump…
Continue Reading