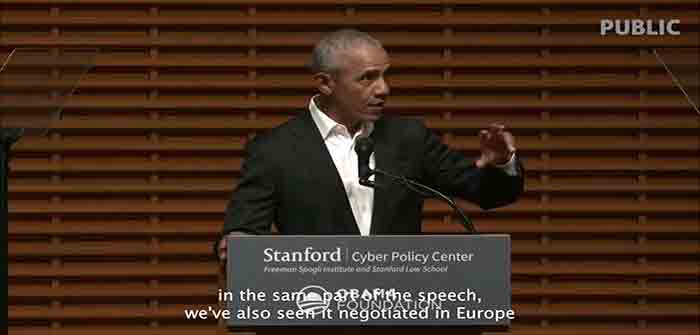 by Sean Adl-Tabatabai at The People's Voice
Former President Barack Hussein Obama has urged the Biden regime to declare a national emergency and use its powers to eradicate all independent media online ahead of the 2024 election.
Speaking to CBS News on Tuesday, Obama warned that the mainstream media has lost its control over the narrative and said the only solution is for the U.S. government to step in and take drastic action.
"The thing that I'm most worried about is the degree to which we now have a divided conversation, in part because we have a divided media, right?" Obama told Nate Burleson.
"I'm much older than you… when I was coming up, you had three TV stations and people were getting a similar sense of what is true and what isn't, what was real and what was not."
"Today, what I'm most concerned about is because of the splintering of the media, we almost occupy different realities," Obama said, adding "If something happens, in the past, everybody could say, all right, we may disagree on how to solve it, but at least we all agree that, yeah, that's an issue."
Infowars.com reports: Obama further complained that in this day and age some people refuse to believe media narratives.
"Now people will say,…
Continue Reading