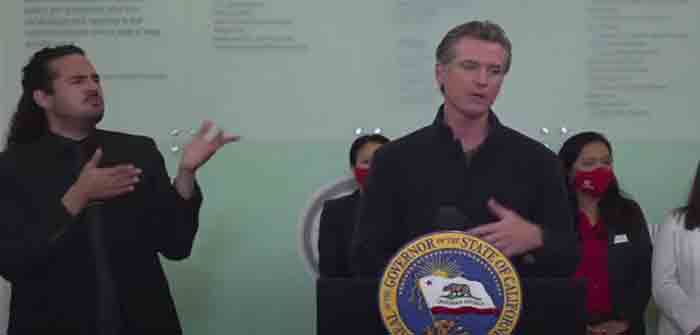 by Kyle Becker at Becker News
California Governor Gavin Newsom had been on a rampage after surviving his recall election. The embattled governor has punished voters for daring to challenge his authoritarian rule, such as by passing a 'vaccine mandate' for K-12 students.
Then, a 'funny' thing happened. Gavin Newsome's revenge tour stopped. The golden boy of California politics suddenly retreated from the limelight. His public appearances grinded to a halt. The governor suddenly went silent.
The last time Gavin Newsom was seen in public he gave an exortation for all Americans to 'get your booster,' as was said in a post that evening:
Get your booster. pic.twitter.com/xuvX5X6HZu

— Gavin Newsom (@GavinNewsom) October 27, 2021
A few days later, Gavin Newsom's planned trip to travel to Glasgow for the now-failed climate conference was canceled.
"California Gov. Gavin Newsom on Friday abruptly canceled his trip to the United Nations Climate Change Conference because of unspecified 'family obligations,' his spokeswoman said on October 29, according to the AP.
"Newsom was scheduled to attend the event next week in Glasgow, Scotland, to highlight his administration's climate change actions," the AP continued. "That includes a proposed ban on the sale of all new gas-powered cars in the state by 2035, a ban on all oil drilling by 2045 and outlawing the sale of new gas-powered lawn equipment by 2024 or whenever state regulators determine is feasible."
"Newsom was to lead a California delegation that included his wife, Jennifer Siebel Newsom, Assembly Speaker Anthony Rendon and 14 other legislators and some of the state's top environmental regulators," the report added.
On October 27, Newsom decided to follow-up his initial Johnson & Johnson vaccination with a Moderna 'booster shot.' You can see from the press conference following the booster shot that Newsom is flushed and does not appear to be well:…
Continue Reading