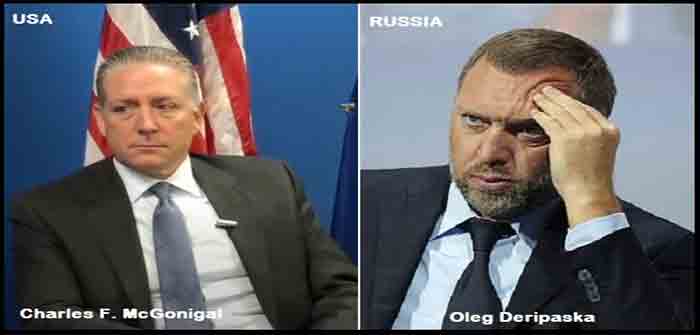 Sundance at The Conservative Treehouse
There is A LOT going on inside this story, and the pair of indictments only scratch the surface.
According to the DOJ, "A former Special Agent in Charge of the FBI New York Counterintelligence Division [Charles F. McGonigal, 54, of New York City] and a former Soviet and Russian diplomat [Sergey Shestakov, 69, of Morris, Connecticut] were arrested Saturday on criminal charges related to their alleged violating and conspiring to violate the International Emergency Economic Powers Act (IEEPA) and conspiring to commit money laundering and money laundering.
Interestingly, there are two sets of indictments.  The first is in New York related to the U.S. sanctions against Russia, specifically Oleg Deripaska  [SEE HERE].  The second is in DC related to money laundering, payments from Deripaska [SEE HERE].  The New York case is related to post retirement activity in 2021.  The DC case is related to activity when Charles F McGonigal was taking money from Russians, and apparently others, while simultaneously investigating Donald Trump, "from August 2017 and continuing through and beyond his retirement from the FBI in September 2018."
It would appear, Main Justice in DC is concerned about the timeline and are structuring the money laundering prosecution to keep tight control in Washington DC, for the period when McGonical was a special agent in charge.   However, given the backstory of the players involved, and known 2021 FARA filings that hit on the organizations involved, the FBI and DOJ have known about this issue for quite some time, at least 18 months prior to the indictments today.
These indictments are a rabbit hole that runs sideways from the Trump-Russia collusion nonsense and includes the use of "contractors" in 2021 that McGonigal had to know from his time in the FBI counterintelligence operations.
Charles McGonigal was the operational lead who kickstarted the Trump Crossfire Hurricane investigation in 2016 (a false construct) per testimony by Jonathan Moffa [pg, 32/33], and was also the lead official in charge of the investigation into the DNC email leak (WikiLeaks), claimed by the U.S. government to have stemmed from Russian hackers (another false construct).
Following his work in the DC bureau of the FBI, McGonigal was moved to be Special Agent in Charge (SAC) of the FBI's Counterintelligence Division in New York.  He retired Sept '18 from New York.
From the DOJ (New York Case):…
Continue Reading