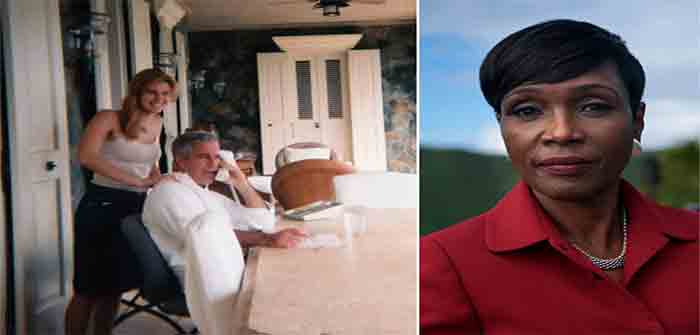 by Sundance at The Conservative Treehouse
After successfully settling a $105 million lawsuit against the estate of Jeffrey Epstein in early December, U.S. Virgin Islands Attorney General Denise N. George then filed a lawsuit against JPMorgan Chase saying the "bank knowingly provided and pulled the levers through which recruiters and victims were paid."   
(US Virgin Islands) – Attorney General Denise George was terminated on Saturday after serving four years with the Bryan administration, the Consortium can confirm.
The decision by Governor Albert Bryan to fire the A.G. came just days after Bloomberg News revealed that Ms. George in her capacity as V.I. attorney general had filed a lawsuit against JPMorgan Chase — the largest bank in the United States and the world's largest bank by market capitalization — without first informing Governor Bryan of such a major action, said a person with knowledge of the matter.
The lawsuit claims JPMorgan Chase facilitated convicted felon Jeffrey Epstein's abuse of women and girls, alleging that the bank should have known about Epstein's illegal activity and as part of its anti-money laundering procedures, should have reported their client to authorities.
George accused the bank of turning a blind eye to the sex trafficking operations that went on on Epstein's private island in the USVI, Little St. James. (read more)
AG George is fired from her position as USVI AG after filing a lawsuit against JPMorgan.  Where did Joe Biden go on vacation?  The U.S. Virgin Islands.
BACKSTORY:  It would appear the Attorney General for the U.S. Virgin Islands, Denise N. George, has a strategic map to target those institutions and entities associated with Jeffrey Epstein.  AG George appears to be following the money, building her cases, and sequentially targeting the system that enabled Epstein.
Earlier this month…
Continue Reading