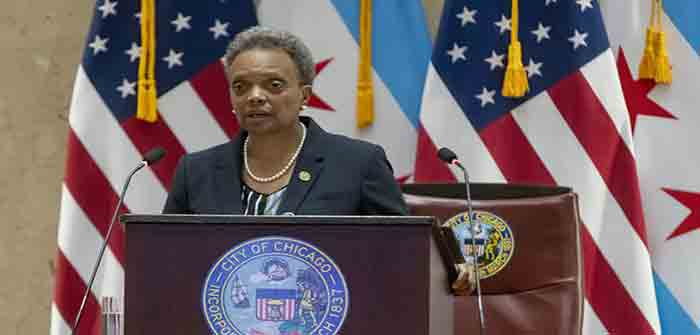 by Alex Hammer at Daily Mail
Chicago Mayor Lori Lightfoot, once an advocate for Defund the Police, has a secret group of cops protecting her alongside her bodyguard, it's been revealed
The unit of 65 officers, five sergeants and a lieutenant are providing protection for the city's mayor together with her bodyguard detail of about 20 officers 
The revelation comes after Lightfoot proposed slashing $80 million from the Chicago Police Department budget in 2020 during Defund the Police protests
The proposal was later scaled back and $59 million of the budget was cut
She has since denounced the movement and  pleaded with the AG to send ATF agents to the city for six months after it saw its murder rate jump to 25-year high
One-time Defund the Police advocate Mayor Lori Lightfoot has a secret group of Chicago cops known as Unit 544 protecting her alongside her bodyguards, it has been revealed.
The unit of 65 officers, five sergeants and a lieutenant are provide round-the-clock protection for the city's mayor, together with her bodyguard detail of about 20 men, The Chicago Sun Times has revealed, citing city records.
The revelation comes as crime in the Windy City has surged to frightening new rates not seen in half a decade, and after Lightfoot proposed slashing a whopping $80 million from the Chicago Police Department budget in 2020 during the Defund the Police protests.
The proposal was later scaled back and 3.33 percent of the budget – or $59 million – was cut.
It also comes amid news 660 cops retired in 2021 – almost twice as many as in 2018. The mass retirements came in the same year Lightfoot announced a Covid-19 vaccine mandate for city employees.
Lightfoot, 59, has since denounced the movement and in December pleaded with Attorney General Merrick Garland to send Alcohol, Tobacco and Firearms agents to the city for six months after the city saw its murder rate jump to a 25-year high…
Continue Reading