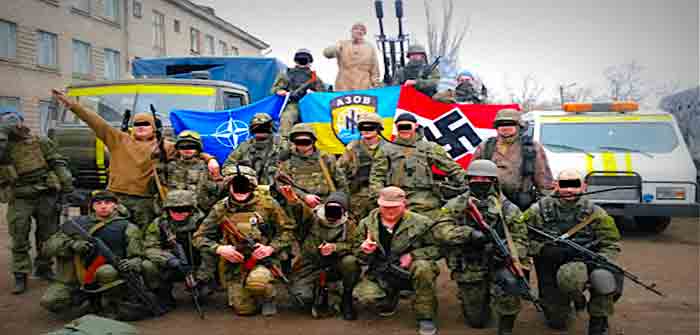 Flashback: by Robert Parry at Consortium News
The New York Times reported almost in passing on Sunday (Aug. 10) that the Ukrainian government's offensive against ethnic Russian rebels in the east has unleashed far-right paramilitary militias that have even raised a neo-Nazi banner over the conquered town of Marinka, just west of the rebel stronghold of Donetsk.
That might seem like a big story a U.S.-backed military operation, which has inflicted thousands of mostly civilian casualties, is being spearheaded by neo-Nazis. But the consistent pattern of the mainstream U.S. news media has been since the start of the Ukraine crisis to white-out the role of Ukraine's brown-shirts.
Only occasionally is the word "neo-Nazi" mentioned and usually in the context of dismissing this inconvenient truth as "Russian propaganda." Yet the reality has been that neo-Nazis played a key role in the violent overthrow of elected President Viktor Yanukovych last February as well as in the subsequent coup regime holding power in Kiev and now in the eastern offensive.
On Sunday, a Times article by Andrew E. Kramer mentioned the emerging neo-Nazi paramilitary role in the final three paragraphs:
"The fighting for Donetsk has taken on a lethal pattern: The regular army bombards separatist positions from afar, followed by chaotic, violent assaults by some of the half-dozen or so paramilitary groups surrounding Donetsk who are willing to plunge into urban combat.

Officials in Kiev say the militias and the army coordinate their actions, but the militias, which count about 7,000 fighters, are angry and, at times, uncontrollable. One known as Azov, which took over the village of Marinka, flies a neo-Nazi symbol resembling a Swastika as its flag.

In pressing their advance, the fighters took their orders from a local army commander, rather than from Kiev. In the video of the attack, no restraint was evident. Gesturing toward a suspected pro-Russian position, one soldier screamed, 'The bastards are right there!' Then he opened fire."…
Continue Reading