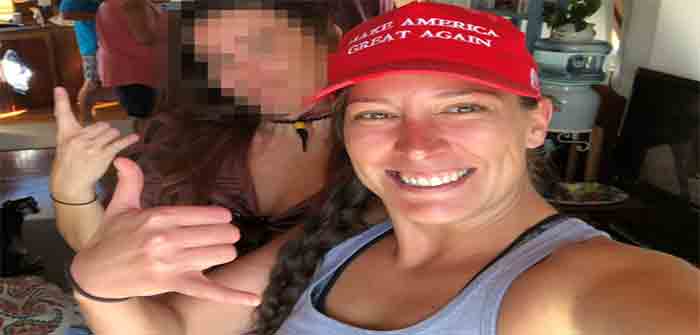 by Kyle Becker at Becker News
The unnamed Capitol Police who fatally shot Ashli Babbitt at the January 6 events was 'formally exonerated' after an internal probe in a new report by NBC News on Friday.
"The officer, whose name has not been released, opened fire on Babbitt as she and a mob of other Trump supporters tried to forcefully enter the Capitol on Jan. 6," NBC News reported.
"The Justice Department announced in April that no charges were being brought against the officer," the report notes. "The exoneration by the Capitol Police wraps up the last remaining investigation into the incident."
"A memo from the commander of the Capitol Police's Office of Personal Responsibility says 'no further action will be taken in this matter' after the officer was exonerated for use of force."
While the Capitol Police officer has not been named, the Acting House Sergeant at Arms appeared before a House committee and seems to have named Ashli Babbitt's shooter.
Timothy Blodgett, at a February 25th hearing with Rep. Herrera-Buetler about Jan. 6 that appeared on C-SPAN, casually dropped a name.
"The situation where you discussed, where Officer [Byrd] was at the door when Ms. Babbitt was shot, it was our Sergeant at Arms employee who rendered the aid."
It is interesting that Blodgett names an "Officer Byrd" in the context of Ashli Babbitt's shooting. An African-American Lieutenant Mike Byrd was reported by Roll Call as having once left his service weapon in a bathroom in 2019.
"A U.S. Capitol Police lieutenant left his service weapon in a bathroom Monday night and the unattended gun was discovered later by another Capitol Police officer," Roll Call reported.
"After the House adjourned on Monday, Lt. Mike Byrd left his Glock 22 in a bathroom in the Capitol Visitor Center complex, according to sources familiar with the incident," the report said. "Byrd is the commander of the House Chambers section of the Capitol Police and was on the job Tuesday and Wednesday."…
Continue Reading