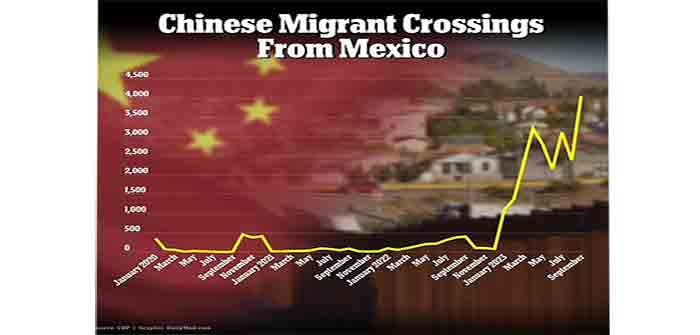 by Keith Griffith at Daily Mail
CBP encounters with Chinese nationals at southern border are at record highs
Agency reported 24,048 border arrests in the 12 months through September
That's up from 1,970 over the same period in 2022, and just 323 in 2021 
The US border is being inundated with Chinese nationals as migrant caravans from Latin American increasingly attract asylum seekers from around the world.
Over the 2023 fiscal year, which ended in September, US Customs and Border Protection reported 24,048 Chinese citizens were apprehended at the Mexico border.
That's up more than 10 times from the 1,970 arrests recorded during the 2022 fiscal year, and just 323 the year before, when China was under strict pandemic travel bans and lockdowns.
Although Latin America remains by far the largest regional source of immigration, China and other nations in the Eastern Hemisphere represent a significant and growing minority of migration using the southern land route.
Border Patrol arrested 41,719 Indian migrants crossing from Mexico in fiscal year 2023, up 129 percent on the previous year. Some 7,390 Russians were captured, up by 42 percent, while 15,429 Turks were detained, roughly flat from the prior year…
Continue Reading