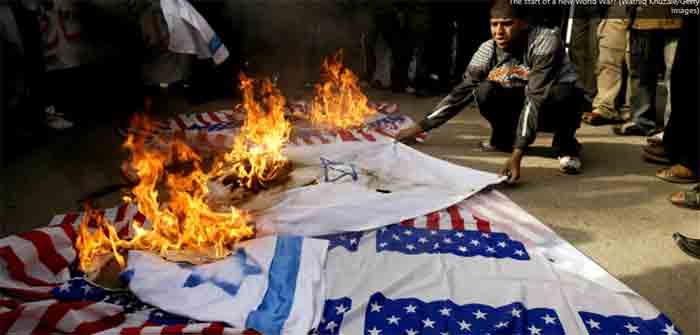 by Aris Roussinos at UnHerd
Less than a month ago, President Biden was asked on camera if the United States could simultaneously bring conflicts in Ukraine and the Middle East to a palatable conclusion. "We're the United States of America, for God's sake," he responded, "the most powerful nation in the history of the world." A few weeks later, facing domestic pressure to order Israel to cease its bloody bombing campaign against Gaza, Biden administration officials instead proclaimed their total powerlessness to influence its ally. Similarly, Biden's early proclamations that America would support Ukraine "for as long as it takes" have run into the brick wall of American political dysfunction: as long as it takes, it transpires, in practice means just under two years.
Different wars with different causes, both Gaza and Ukraine reveal, in their own unique ways, the limitations of American imperial power. Neither would have been launched by either Russia or by Hamas — perhaps with Iran behind it — without the confidence that America's ability to defend the world it created in its own image was radically weakened. The Pax Americana is already dead: the world is now suffering
more wars than at any time since 1945
. Worse, a vast gap has opened up between America's stated commitments to its allies, and its ability to enforce its will: entire nations could be swallowed in the gulf between rhetoric and reality.
To remedy this, we must first cast off the illusions that led us here. In all this recent horror, it has been a salutary experience observing the contrast in reactions summoned up by the punitive air campaigns carried out by America's geopolitical foes, such as Syria and Russia, and those carried out with America's military and diplomatic support by its ally Israel. Pundits who rightly condemned Assad's reckless bombing of hospitals, schools, bakeries and civilian homes now urge us to consider the painful necessity for Israel to bomb the same civilian targets in Gaza. Equally, many of those now loudly outraged by Israel's air campaign previously welcomed Assad and Russia's indiscriminate bombing of what they called terrorists in Syria. Objectively, it is difficult to see any significant moral difference between the two campaigns, between their rival sets of supporters, or between the rival great powers enabling them.
Indeed, in just one month, Israel's air strikes against Gaza,…
Continue Reading