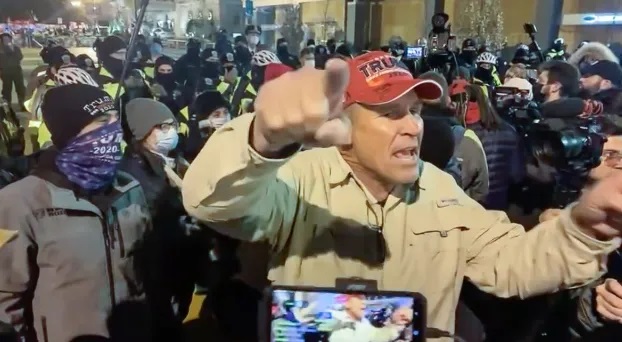 by Darren Beattie at Revolver News
The New York Times just released a puff piece on Ray Epps that is hugely important.
Ray Epps, the only person caught on camera repeatedly directing people into the Capitol, is the only January 6 rioter for whom the New York Times has written a highly sympathetic puff piece:
To get acquainted with Epps, watch the following video compilation:
Again, this is the one Jan. 6 rioter the New York Times has managed to write a puff piece for.
From NYT:
IN THE ROCKY MOUNTAINS — Up a winding country road, in a trailer park a half-mile from a cattle ranch, lives a man whose life has been ruined by a Jan. 6 conspiracy theory.

Ray Epps has suffered enormously in the past 10 months as right-wing media figures and Republican politicians have baselessly described him as a covert government agent who helped to instigate the attack on the Capitol last year.

Strangers have assailed him as a coward and a traitor and have menacingly cautioned him to sleep with one eye open. He was forced to sell his business and his home in Arizona. Fearing for his safety and uncertain of his future, he and his wife moved into a mobile home in the foothills of the Rockies, with all of their belongings crammed into shipping containers in a high-desert meadow, a mile or two away.

"And for what — lies?" Mr. Epps asked the other day with a look of pained exhaustion. "All of this, it's just been hell."
Let's skip straight to the buried lede.
Here we see a reference to a text message Epps sent to his nephew describing how he "orchestrated movements of people" to the Capitol after Trump's speech:
Mr. Epps also said he regretted sending a text to his nephew, well after the violence had erupted, in which he discussed how he helped to orchestrate the movements of people who were leaving Mr. Trump's speech near the White House by pointing them in the direction of the Capitol.
Will this text message soon become a matter of public record? What exactly is Epps' phrasing? Will other Ray Epps communications soon come out that will further clarify this sudden need for aggressive damage control?
For clarification, this is a video compilation of Epps "orchestrating movements" to the Capitol. We wonder how precisely Epps described his decision to do so:…
Continue Reading