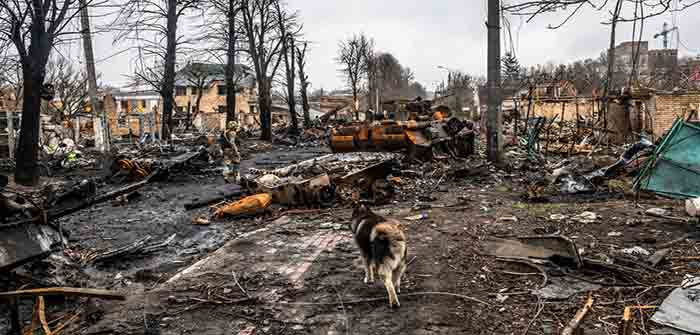 by Larry Johnson at A Son of the New American Revolution
Remember when UK Defense sources were predicting Russia would be finished in 14 days? This was back on March 23:
Russian forces may only be able to sustain full fighting capacity for another 'ten to 14' days, senior UK defence sources indicated last night, after which Putin's men will struggle to hold the ground they have already captured from Ukrainian troops.

UK defence sources say that Kyiv has Moscow 'on the run' and the Russian army could be just two weeks from 'culmination point' – after which 'the strength of Ukraine's resistance should become greater than Russia's attacking force.' Advances across Ukraine have already stopped as Moscow's manpower runs short.
Looks like General Milley, Chairman of the Joint Chiefs of Staff, did not get the memo. He told the House of Representatives a different story this week:
"It's a bit early, still. Even though we're a month-plus into the war, there is much of the ground war left in Ukraine," he added. "But I do think this is a very protracted conflict, and I think it's at least measured in years. I don't know about a decade, but at least years for sure.
In other words, no one knows how long. I admit I was not a good prophet. I was overly optimistic at the outset. I assumed that Russia launched its "special operation" with more troops then it actually did. So, I have been wrong too. Took me a bit to see that Russia's plan was not to proceed conventionally by occupying cities. I finally listened to Putin's words and accepted his view that the objective is the demilitarization of Ukraine and the elimination of the Nazi minority that wields too much power over a weak government.
Which brings me to my dog analogy. If you are told there is a ferocious dog in a house and you do not hear any barking, even after you bang on the door, you are faced with a number of possibilities:
There is no dog.
The dog is a sound sleeper.
The dog is not home but will be back soon…
Continue Reading