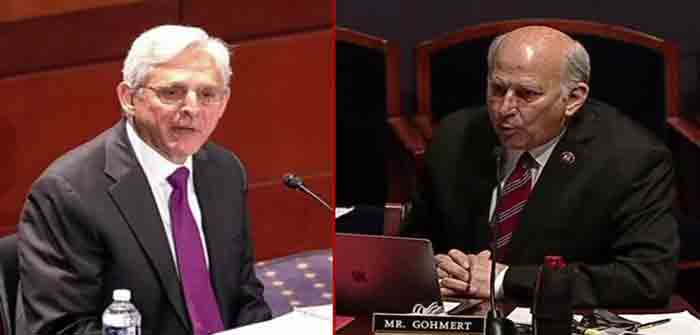 by Kyle Becker at Becker News
House Rep. Louis Gohmert had Attorney General Merrick Garland stammering in short order at Thursday's judiciary committee hearing. Gohmert appeared to have Garland rattled with his rapid-fire questioning, beginning with his threatening memo about parents opposed to Critical Race Theory being taught in schools and proceeding to grill him about what really happened on January 6.
"You said a moment ago you couldn't imagine a parent being labeled a 'domestic terrorist'," Gohmert said at the hearing. "But parents all over the country believe that is exactly what you labeled them by your memo indicating you were going to get involved in board meetings, school board meetings, because of the threat of domestic terrorism."
"So, if you can't imagine a parent being labeled a 'domestic terrorist,' I would encourage you to redo your memo so it's not so perceived as being so threatening to people concerned about their kid's education," he said.
"But I want to take you to January 6," he continued. "It's a very common topic here for people. Has any defendant involved in the January 6 events been charged with 'insurrection'?"
"I don't believe so," Garland responded.
"Well, that is the word most used by Democrats here on Capitol Hill about January 6, but no one has been charged with it that we could find either," he added.
"How many protesters on January 6 were charged with obstructing an official proceeding for four to six hours, do you know?" he asked.
"I don't know the exact number," Garland responded. "Obviously, there were 650 who were arrested, some for assaulting officers, some for obstructing proceedings, some for conspiring to obstruct proceedings… I can get you numbers for each of the specific…"
"Well, thank you," Gohmert responded. "I would be interested in getting that number."
Then Gohmert hit Garland with a question that gave him serious pause…
Continue Reading