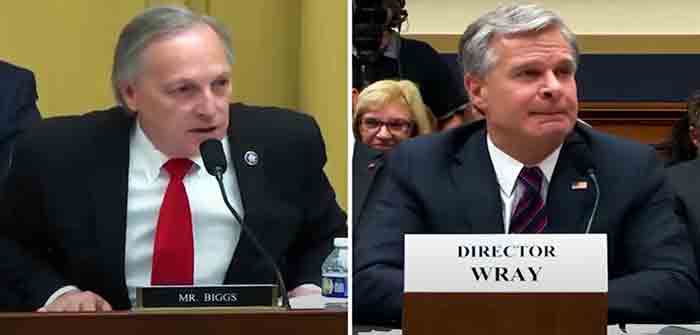 by Jordan Conradson at The Gateway Pundit
Congressman Andy Biggs (R-AZ) spoke to The Gateway Pundit on Monday before the House voted on Articles of Impeachment against Secretary of Homeland Security Alejandro Mayorkas.
During the interview, Biggs also revealed new information from a classified meeting that more than 2 million illegals have crossed the border, and our federal government has no idea who they are. They could be Hamas terrorists, Chinese spies, drug lords, or other foreign bad actors. We don't know!
Congressman Biggs also noted,
I was the first person to sponsor an impeachment resolution, I sponsored a second resolution, and signed onto every resolution, as far as I know. This guy has basically changed the culture of the United States of America; he's changed the geography of the United States. If you want to know what failed states–the first thing that goes in a failed nation is to lose control of your geographical integrity. We have lost control of that. This guy is the architect for that. You've got people that are dying, I tell you what, you go down there – you've been down there, Jordan, so you know – it's an absolute disaster. And in Arizona right now, what we're seeing happening at our border is worse than it's ever been. So, this guy should not be holding any job of any kind of responsibility. Let's talk about some of the laws he's broken. How about this one? How about Operational Control and Secure Fence Act of 2006? He came before Congress and said that he had operational control. When we read to him what the law is, he had the audacity to say, Oh, I don't I don't care what the official law is. We kind of redefined what operational control is, and under our definition, we have operational control. How about you're not supposed to release [millions of] people into the country while they await the change of their immigration status?… Anywhere from six to eight years out. How about this one? You have a million and a half people who have removal orders or deportation orders given to them after they've had due process in American courts. He's told them don't look for them, don't remove them. That's the idiocy of what's happening.
The Gateway Pundit reported that the House voted tonight on Congresswoman Marjorie Taylor Greene's resolution to impeach the failed Homeland Security Secretary…
Continue Reading