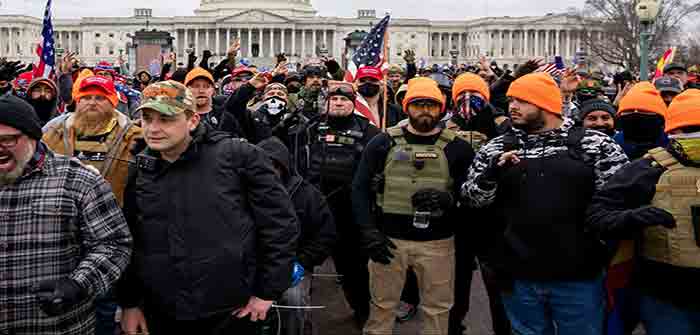 by Julie Kelly at American Greatness
Ajury on Thursday found four members of the Proud Boys guilty of seditious conspiracy and other charges in the Justice Department's most high-profile trial related to the events of January 6, 2021.
After six days of deliberation, jurors convicted Enrique Tarrio, Ethan Nordean, Joseph Biggs, and Zachary Rehl of seditious conspiracy and conspiracy to obstruct an official proceeding. The jury deadlocked on those two counts for a fifth defendant, Dominic Pezzola. All five were found guilty of obstruction of an official proceeding, conspiracy to prevent an officer from discharging any duties, obstruction of law enforcement during a civil disorder, and one count of destruction of government property.
Pezzola was found guilty of assaulting or impeding law enforcement and robbery. (He took a police riot shield during the melee.) Jurors are still debating additional counts related to destruction of property and assaulting law enforcement; it's unclear how Judge Tim Kelly will instruct the jury to proceed on unresolved charges.
Jury deliberations began April 26; the nearly four-month trial was marred by controversy including last-minute disclosures of numerous FBI informants; open hostility between the judge and defense attorneys; the accidental discovery of explosive messages between FBI agents discussing deleted evidence, a doctored report, and the surveillance of attorney-client jailhouse communications; multiple sightings in evidence of the still-uncharged Ray Epps; a convoluted appellate ruling on the legitimacy of a key charge in the case; and suspicions of a jury stalker.
Until 2022,…
Continue Reading