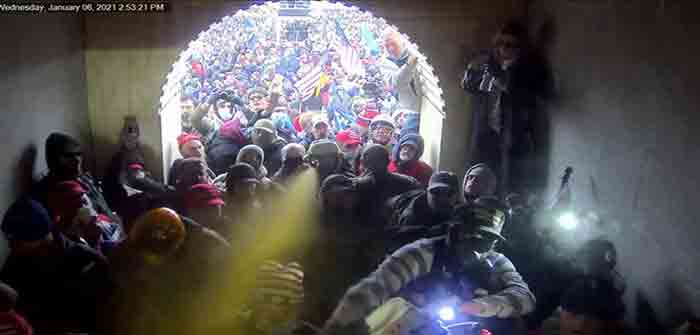 by Julie Kelly at American Greatness
A bombshell report just published in Newsweek details an in-depth, secret operation conducted by the Justice Department before and during January 6. Contrary to the lamentations of FBI Director Christopher Wray that he wished his agency had had better resources to prevent the Capitol breach, hundreds of elite forces under Wray's authority were on stand-by days just before the protest, and even on the ground as it happened.
The "shadowy commandos" stationed at Quantico, home of the FBI Academy, on January 2, 2021 included the FBI's Hostage Rescue Team and SWAT teams.
"On the morning of January 6, most of these forces staged closer to downtown Washington, particularly after intelligence was received indicating a possible threat to FBI headquarters building or the FBI's Washington Field Office," Newsweek investigative reporter William M. Arkin wrote. "FBI tactical teams arrived on Capitol Hill early in the day to assist in the collection of evidence at sites—including the Republican and Democrat party national headquarters—where explosive devices were found. FBI SWAT teams and snipers were deployed to secure nearby congressional office buildings. Other FBI agents provided selective security around the U.S. Capitol and protection to congressional members and staff."
An FBI tactical team, according to the report, entered the building immediately after protesters did, which was shortly after 2 p.m.
To the casual reader, news that the nation's top law enforcement agency prepared ahead of time to combat possible violence on January 6 is reassuring. But to anyone who has closely followed the hyperpartisan activity of the FBI over the past several years, the article reads more like a confession, confirming deep suspicions that the FBI played an instrumental role in prompting the events of that day rather than act as a legitimate police force helping to keep lawmakers and American citizens safe.
Those suspicions are not without merit. In September, the New York Times confirmed that at least two FBI informants had infiltrated the Proud Boys, an alleged "militia group" that breached the Capitol that day. Defense attorneys disclose in court documents that FBI agents were in the crowd.
The Justice Department's scandal-ridden prosecution of several men charged with conspiring to kidnap Michigan Governor Gretchen Whitmer in 2020 continues to reveal disturbing details of how the FBI concocted the plot and managed every aspect until the end. More than a dozen informants and undercover agents executed the scheme—one FBI asset per defendant. Prosecutors continue to tie the kidnapping plot and January 6 together, a legal strategy that could backfire big-time for federal prosecutors.
And, more importantly, several agitators on January 6 including Ray Epps and Stewart Rhodes, who is "Person 1" in the multi-defendant conspiracy case against the Oath Keepers, still have not been charged; neither have dozens of protesters photographed wearing neon orange hats and electrical tape that day.
So as the nation approaches the one-year anniversary…
Continue Reading