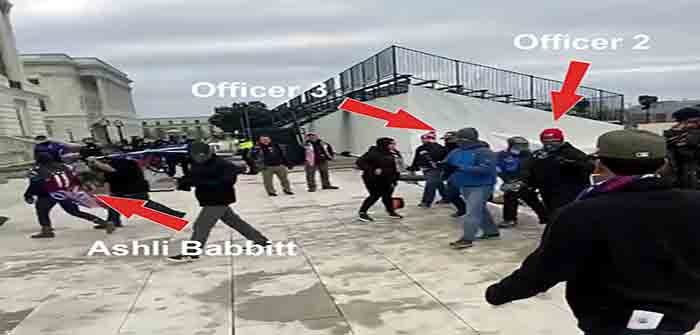 by Kyle Becker at The Wildfire Newsletter
Speaker Kevin McCarthy may be granting Tucker Carlson access to the 14,000 hours of January 6 surveillance footage, but Americans won't need to wait until the Fox News primetime cable host's reports are aired to get a taste of what those videos are likely to show.
Newly released bodycam footage obtained due to the court trial of Jan. 6 defendant William Pope of Topeka, Kansas shows uniformed officers discussing how to spot "non-uniform" agents. In addition, the released videos show that undercover officers climbed barricades and urged protesters to go toward the Capitol Building. MPD bicycle officers stopped four armed men in plainclothes that turned out to be law enforcement agents. Another video shows a man walking behind Ashli Babbitt, the woman fatally slain by Capitol Police officer Michael Byrd, and predicted that "someone will get shot." There is also a new wrinkle in the activities of Ray Epps and Ryan Samsel on the day of the Capitol Riots.
Several of the videos were posted in a Twitter thread by William Pope under the handle of @FreeStateWill.
Why hasn't the government informed the public that undercover MPD officers were chanting "our house!" and repeatedly urging protestors to advance up the northwest steps of the Capitol on January 6?

Officer 2 said someone would get shot and went up right behind Ashli Babbitt. pic.twitter.com/93xkSOSLDC

— 🇺🇸 (@FreeStateWill) February 18, 2023
The videos were reported on and authenticated by Joseph M. Hanneman at the Epoch Times.
According to Pope's motion, three undercover MPD officers approached the northwest corner of the Capitol grounds at about 1:40 p.m. on Jan. 6. Officer 1, who filmed the event, joined in with the crowd and chanted, "Drain the swamp!"
After a group of men ran past the officers toward the Capitol, Officer 2 — who was wearing a Trump beanie — commented, "Those guys are getting shot," according to the motion.
Then Officer 1 joined in with the crowd chanting, "Whose house? Our house!"
Pope also describes how Officer 1 climbed over a barricade: "Officer 1 began yelling at people in front of him to 'Go, go, go!' As they climbed bicycle racks, Officer 1 yelled for the crowd to 'help him up, help him up!' followed by 'push him up, push him up!'"
"Needing help to get up, Officer 1 asked a nearby man to give him a boost," the motion continues. "The man gives Officer 1 a lift up, and Officer 1 says 'Thanks, bro.'"
The motion can be read via the link below:…
Continue Reading